MOONRISE: OUR ANNUAL GALA
September 22, 2021
,
7:00pm
–
10:00pm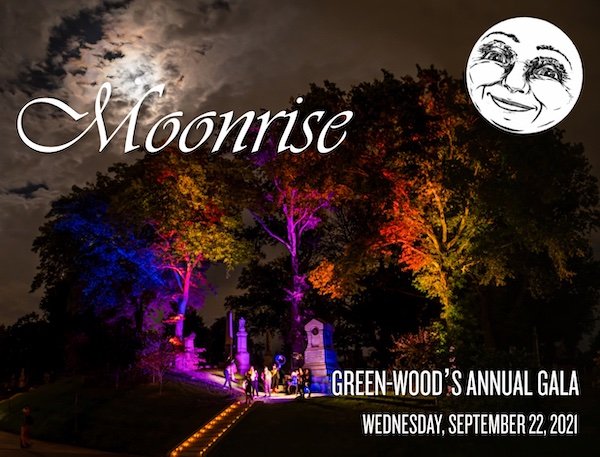 You'll enter Green-Wood after the gates have closed for the day and receive a specially designed tote bag. In every direction, trees, winding pathways, and historic monuments will be gloriously illuminated. You'll stroll under the bright light of the waning full moon, enjoying a curated selection of on-the-go snacks, and, at the Waxing Moon level or higher, stations for hors d'oeuvres and light dinner. As you meander along the path, you'll come across music and performances presented by critically acclaimed artists and Green-Wood fan favorites. Beer, wine, and non-alcoholic libations will abound.
LoWER-COST TICKETS
Back by popular demand! A limited number of lower-cost tickets are available for $125. When they're gone, they're gone!
Looking for a VIP experience?
In addition to the fabulous happenings in the main performance space, VIP sponsors and their guests have access to a private VIP section featuring exclusive performances, specialty cocktails, artisan desserts, and space to sit and mingle with friends old and new.
Our most important fundraiser of the year!
Your sponsorship of Moonrise ensures that we can continue to serve our friends in Brooklyn and beyond, so we urge you to be as generous as you can. Donations received through Moonrise sponsorships and ticket sales provide critical support for Green-Wood's school tours, restoration, arts and cultural programs, archives, and key initiatives in nature and the environment. Thank you!
The Details
All attendees are required to be vaccinated and follow the COVID-19 safety protocols that will be in place for this event. Please review them at this link.
The Cemetery's terrain is quite hilly and the event will be entirely outdoors. We strongly recommend appropriate attire and footwear.
All attendees must be 21 years of age or over.
Parking will not be available within the Cemetery for this event. We recommend arriving by public transit, taxi, or ride share service.
Our rain date is Thursday, September 23rd. In case of the event's cancellation for any reason, attendees will be given advanced notice. Tickets are transferable to other individuals, but not refundable or applicable to future events.
Questions?
Email us and we'd be glad to help!