Modern Loss: Candid Conversation About Grief. Beginners Welcome.
May 23, 2018, 7:00pm

–

8:15pm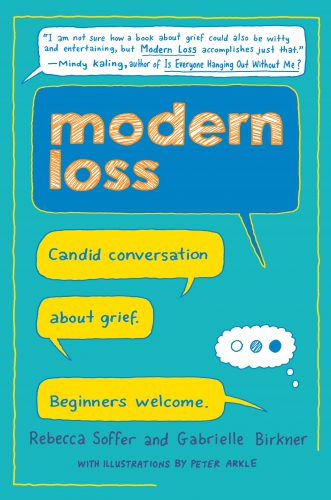 How do we navigate a loss? How do we share the unspeakably taboo, unbelievably hilarious, and unexpectedly beautiful terrain of grieving? Rebecca Soffer and Gabrielle Birkner, co-founders of the website Modern Loss, talk candidly about thriving in the face of grief, loss, and how to connect with other people who just "get" it. And absolutely no judgment, tips to help you "get over it", or the phrase "Everything happens for a reason." Join Green-Wood and Because Jewish for a conversation with Rebecca and Gabrielle about their new book, Modern Loss: Candid Conversation About Grief. Beginners Welcome, which explores empathy, resilience and the power of sharing our stories.
The evening's conversation is moderated by the co-founders of the Brooklyn based organization Because Jewish. Rabbi Dan Ain and Alana Ain continue to bring Judaism into the now. To make it as moving as music, as uplifting as art, as unsettling as literature, as rich as ritual, as comforting as community, as compelling as good conversation.
Light refreshments will be served.
$10 for members of Green-Wood and BHS / $15 for non-members.
Rebecca Soffer
Rebecca Soffer is the cofounder and CEO of Modern Loss. She is a former producer for the Peabody Award-winning Colbert Report. Rebecca has spoken nationally on the themes of loss and resilience at venues including Chicago Ideas Week, HBO, and Kripalu. She is a Columbia University Graduate School of Journalism alumna and contributes regularly to books, magazines, and other media. Rebecca lives in New York City with her husband and two children.
Gabrielle Birkner
Gabrielle Birkner is the cofounder and executive editor of Modern Loss. She is a graduate of Northwestern University's Medill School of Journalism and writes regularly for national newspapers and magazines. She has served as managing editor at the Jewish Telegraphic Agency, director of digital media at the Forward, and features editor at the New York Sun. Gabrielle lives in Los Angeles with her husband and two children
Click here for our inclement weather policy.