Memory Ground
September 11, 2021
,
1:00pm
–
1:45pm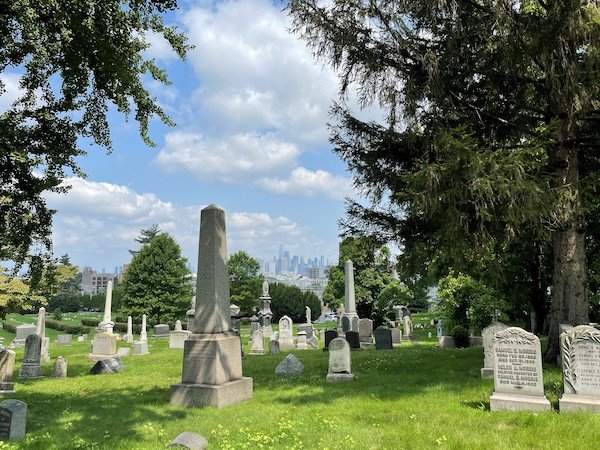 Music is a powerful source of comfort. In emotionally fraught times, it can bring us calm and peace, if only for a few moments. On the 20th anniversary of 9/11, join us atop Green-Wood's Battle Hill, with its sweeping views of Lower Manhattan, to remember the lives lost and those forever changed by this tragic day. The afternoon will feature original compositions by the Mississippi-born and NYC-based composer Buck McDaniel and performances by saxophonist Noa Even and the Desdemona Ensemble.
Reservations are strongly recommended. We recommend a $10 donation per reservation so that we can continue to offer free and low-cost programs throughout the year.
Other important things to note before attending: Seating is on a first come first served basis regardless of reservation. A limited number of chairs will be available. You are strongly encouraged to bring your own chairs or blankets. Each performance is 45 minutes in length, and will repeat every hour (12:00pm, 1:00pm, and 2:00pm). Battle Hill is a ten-minute walk from the Cemetery's Main Entrance at 25th Street and Fifth Avenue, over hilly and uneven terrain (follow the signs to the performance site). Comfortable footwear is recommended.
Rain Date: Saturday, September 18, 2021.
Mandatory Safety Protocols
– Attendees are strongly encouraged to wear a face covering at all times and maintain at least a 6-foot distance from those not in their group.
– The walk is over hilly and uneven terrain, comfortable footwear is encouraged.
– Follow ALL instructions and guidance from Cemetery staff and ambassadors.
– Travel Safely: Green-Wood recommends following all safety precautions while traveling to and from the Cemetery, whether by foot, mass transit, or driving. If taking mass transit, please check the MTA's guidelines.
– Feeling Sick? Stay home if you are feeling sick or running a temperature. Please use good judgement if you have recently been exposed to someone with COVID-19. For more information about COVID-19, please check the CDC website.