Members-Only Program: Beekeeping 101
May 3, 2021
,
6:00pm
–
7:00pm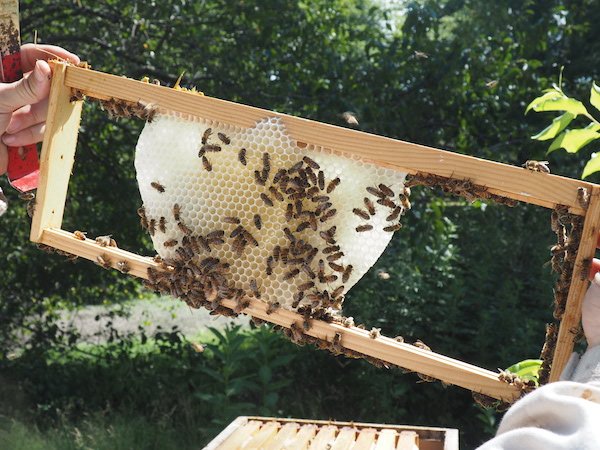 Two-part virtual class with single registration.
– Part 1: Monday, May 3rd, 6pm
– Part 2: Monday, May 10th, 6pm
Have you ever wondered what it takes to keep bees? Or maybe you just want to learn more about how these tiny insects create such delicious honey? Join Nick Hoefly, Green-Wood's head beekeeper, for this two-part virtual class that will teach you all about the basics of beekeeping! Nick will cover the fundamentals of honey bee biology and behavior, as well as the logistics and initial knowledge necessary to start your own hives. 
Nick Hoefly is a Master Beekeeper and owner of Astor Apiaries. He has been working with Green-Wood since 2017.
This program is open only to current Green-Wood members and beehive sponsors. Members and beehive sponsors were sent instructions for registration. If you have any questions or need assistance, please email contactus@green-wood.com.
Not a member or beehive sponsor? Click here to explore membership options, or click here to support our beehives!
Free for members and 2021 beehive sponsors. A Zoom link will be in your confirmation email upon registration. Your registration will cover both Part 1 and Part 2 of the class.
Mandatory Safety Protocols
– Attendees must wear a face covering at all times and maintain at least a 6-foot distance from those not in their group.
– The tour guide will be using a voice amplifier to ensure all social-distancing protocols are adhered to.
– Follow ALL instructions and guidance from Cemetery staff and ambassadors.
– Travel Safely: Green-Wood recommends following all safety precautions while traveling to and from the Cemetery, whether by foot, mass transit, or driving. If taking mass transit, please check the MTA's guidelines.
– Feeling Sick? Stay home if you are feeling sick or running a temperature. Please use good judgement if you have recently been exposed to someone with COVID-19. For more information about COVID-19, please check the CDC website.
– Green-Wood reserves the right to deny entry to any visitor who refuses to comply with the safety guidelines.
If you observe a situation or behavior that does not reflect these protocols, please advise an ambassador or other staff member immediately. With everyone's cooperation this will be a memorable and safe unique experience.