I cannot not grieve: CRY SCREAM SHOUT SING
September 10th
,
4:00pm
–
5:00pm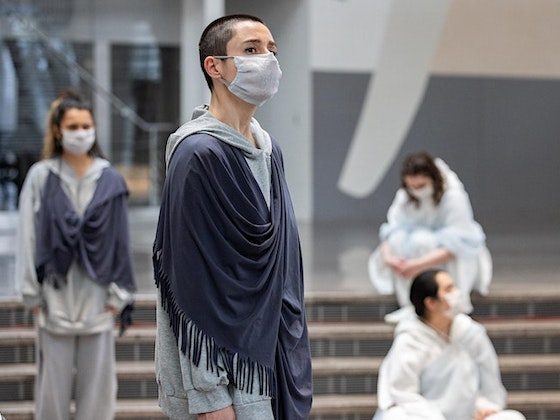 Presented in Partnership with More Art
I cannot not grieve: CRY SCREAM SHOUT SING, a newly commissioned performance by multidisciplinary artist Freya Powell, draws upon the Sophoclean character of Elektra and a Greek chorus to recognize the experience of ambiguous loss as a means to counter the statistic-based records of the COVID-19 pandemic. The performance addresses the permanent state of grief we have been living in since the start of the pandemic.
Exploring the voice as medium this piece tests pitch, tone, pacing, and silence from operatic singing to theatrical utterances. Through varied public expressions of grief (crying, screaming, shouting, and singing) this performance will shroud the listener in an exploration of these outward bodily utterances.

To reserve your ticket or more information, visit More Art's website.
Freya Powell uses time-based and linguistic platforms to explore language and its relationship to memory, myth, and history. Her work has been exhibited in solo shows at Art in General, Brooklyn, NY (2017); Herron School of Art, Indianapolis, IN (2017); and Arts Santa Monica, Barcelona, Spain (2014). She has participated in group shows at institutions including MoMA PS1 (NY), EFA Project Space (NY), Queens Museum (NY), Socrates Sculpture Park (NY), and the Bronx Museum (NY), among others. Most recently she was awarded a development residency at MoMA PS1 (2019) and two New Work Grants from the Queens Council on the Arts (2019 & 2021). Powell holds an MFA in Combined Media from Hunter College and a BA from Bard College.