Honoring "Too Late" Davis: An Unveiling and Trolley Tour
May 14, 2016, 10:00am

–

12:00pm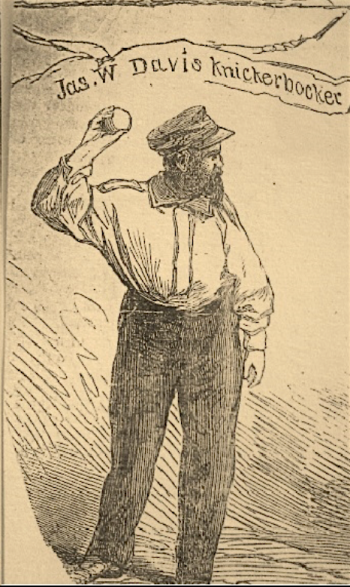 James Whyte Davis, an early baseball pioneer who served as the president of the Knickerbocker Base Ball Club of New York City from 1858 to 1860, had a plan to get himself the Green-Wood monument he felt his legacy deserved. In 1892, long after he had played his last game, Davis announced a request: that every current player and official of the National League give 10 cents to pay for a home plate-shaped monument. It would be a true group effort by the world of baseball to memorialize one of its heroes. Davis would be dressed in his old Knickerbocker uniform, and wrapped in the team's original flag. He even wrote a glowing epitaph that would grace this crowdfunded monument.
But by the 1890s, the sport had moved on without Davis; most players didn't even know who he was. So this baseball trailblazer was buried in his uniform and team flag, but no monument marked his grave. That all changes on May 14th, thanks to the Society for American Baseball Research (SABR) and Major League Baseball. At 10:00am, we'll unveil a new monument built to Davis' specifications – including that epitaph he wrote in which he references his old nickname "Too Late," apparently earned because he was often tardy to his own games. Celebrate Davis recognition at the free unveiling, then join Green-Wood Historian Jeff Richman and baseball expert, historian, and author Tom Gilbert for a trolley tour of early baseball pioneers at Green-Wood – many of whom knew and played with the man of the hour.
This event has two parts, with separate tickets for each part:
The free unveiling of the monument.
A guided trolley tour immediately following the talk, $15 for members of Green-Wood and BHS / $20 for nonmembers.
Green-Wood trolley tours are fully accessible and ADA compliant. In order to accommodate a wheelchair or other mobility device on the trolley, advance arrangements must be made. Please call (718) 210-3080, ext. 1. Please note that portions of the tour take place outside the trolley and may require exiting the vehicle on multiple occasions. Please contact the Historic Fund for more information.
Click here for our inclement weather policy.