History Happy Hour: "New Light From the Great Pyramid," The Tomb of Van Ness Parsons
March 2, 2021
,
6:00pm
–
7:00pm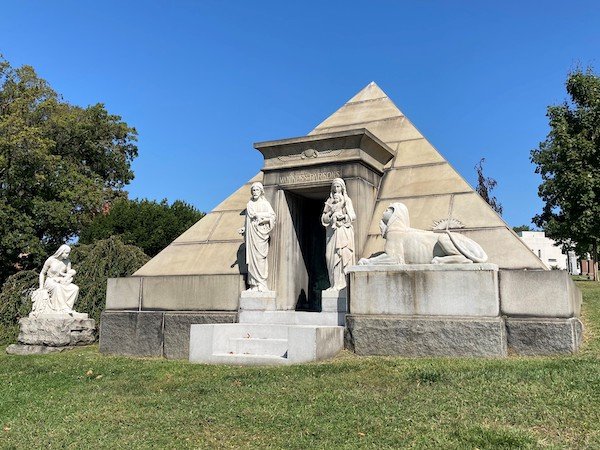 Ancient Egypt was all the rage in the late nineteenth and early twentieth century—you could see it in everything from fashion design to early cinema. But there is no better place to see this style trend (known as Egyptian Revival) in its full glory than right here at Green-Wood. Obelisks, pyramids, and hieroglyphs are common symbols you'll see all around the Cemetery, however one tomb in particular truly exemplifies the era's fascination with the ancient past. In this History Happy Hour, we'll explore the enigmatic Van Ness Parsons mausoleum, which syncretizes themes of astrology, the occult, Ancient Egypt, and Christianity—an apt final resting place for amateur egyptologist Albert Ross Parsons.
While we can't actually bring the bar or the drinks to you, we can offer some history on tap! Bring your own beverage–why not try our recommended cocktail of the evening–and raise a glass to the past as we stay connected through our latest series, History Happy Hour.
$9 / $4 for members. A Zoom link and recipe will be in your confirmation email upon registration.
Not a Member?
Click here for all of our membership levels and information.
Already a Member?
Click the gray tickets button to activate the Eventbrite pop-up, then click Enter promo code. Type in your ID number and apply your discount.
Questions?
Don't know your Member ID number? Not sure which ticket or membership type to order? Call 718-210-3080 or email contactus@green-wood.com with any questions.