Green-Wood Through a Beekeeper's Eyes (Member-Only Tour)
June 11th
,
11:00am
–
12:30pm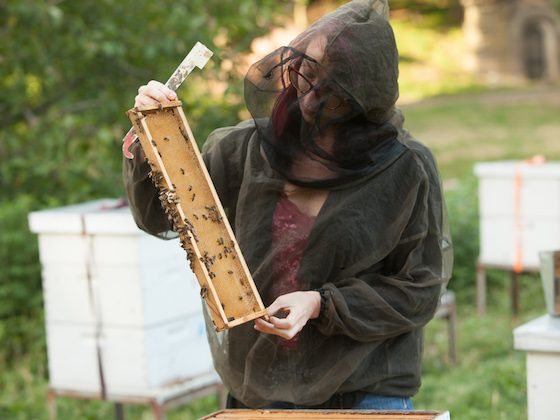 When a beekeeper visits Green-Wood, what do they notice? Join Beekeeper Amy Grumbling for an exclusive look at Green-Wood through her eyes! On this tour, Amy will take you to some of her favorite spots at Green-Wood, including the bee hives, graves of inspiring individuals, and horticultural highlights. You'll learn about the ways bees and honey have been used throughout history, and look ahead to what the future holds for these tiny but oh-so-important pollinators. You'll come away with new stories of Green-Wood and a new appreciation for the ways different people interact with the Cemetery.
Price: $15 for members, and $25 for guests of members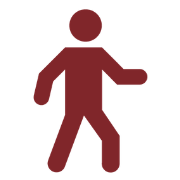 Amy Grumbling has been a beekeeper at The Green-Wood Cemetery for 6 years. At The Bee Conservancy, she is a Beekeeper Educator, managing hives at the Prospect Park Zoo and speaking to the public on Governor's Island about pollinators, their habitats, and how we can help them. She is also an award-winning documentary filmmaker, making work about independent artists, and the connections between art and science; nature and community; place and identity; and memory and documentation. She is currently editing a feature documentary film, and working on an audio documentary series about her observations and musings working as a beekeeper at Green-Wood.
Special caution advised for people with allergies to bees. All attendees ages 2 and up require a ticket. Children MUST be accompanied by an adult.
Members will need to use the spring/summer advanced registration password to access tickets. Members at the Donor level and below will not need their member ID, as the member tickets reflect the final member price. (Members at the Perry Fellow level and above can use their member ID as usual to access their complimentary tickets.) Please email contactus@green-wood.com if you need the password or with other questions.
Location: Check-in takes place near the Arch at the Main Entrance at Fifth Avenue and 25th Street.
Before Purchasing Your Ticket, Please Note:
Attendees are STRONGLY ENCOURAGED to wear a face covering at all times, regardless of vaccine status, and follow ALL instructions and guidance from Cemetery staff and ambassadors. Green-Wood reserves the right to deny entry to anyone who refuses to comply with these guidelines, which are based on CDC, state, and city mandates.
This tour will involve walking on uneven terrain and climbing steps. Suitable footwear is recommended for all tours and events, and flashlights are strongly encouraged for those taking place after sunset.
Location: Check-in takes place at the meadow near the Main Entrance at Fifth Avenue and 25th Street.
There are no paper or e-tickets. Attendees will be checked in by name.
Tickets are non-refundable (unless the tour is canceled by Green-Wood) and cannot be exchanged for a different tour or date!
Inclement weather policy: We monitor the weather throughout the day for the best chance of proceeding with the tour, and will not make a final decision until at least 3 hours before the start of the tour. Cancellations will be announced via Eventbrite email blasts, so check your email and spam folders.
Feeling Sick? Stay home if you are feeling sick or running a fever.
Your membership must be active at the time of the event. Each member is allowed a number of member tickets in line with their membership benefits. Purchases that do not follow these guidelines may be canceled and refunded. Please click here to view ticket allowances for members only events.
Not a Member?
Click here for all of our membership levels and information.
Already a Member?
Click the gray tickets button to activate the Eventbrite pop-up, then click Enter promo code. Type in your ID number and apply your discount.
Questions?
Don't know your Member ID number? Not sure which ticket or membership type to order? Call 718-210-3080 or email contactus@green-wood.com with any questions.