Death Cafe: After the End Edition
November 15, 2021
,
6:00pm
–
7:30pm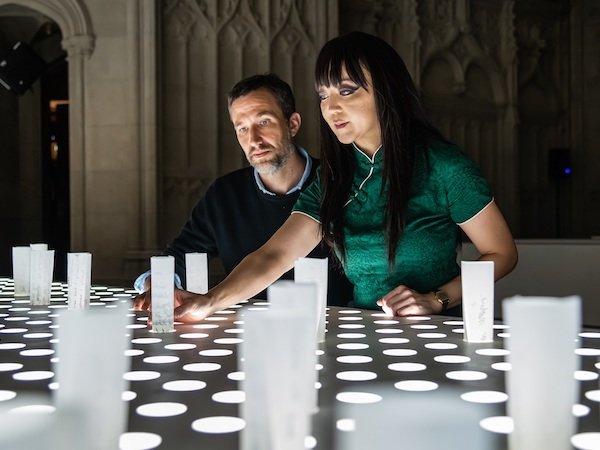 "The moon is a stone and the sky is full of deadly hardware, but oh God, how beautiful anyway." —Margaret Atwood
In this special edition Death Cafe, we will be joined by artists Candy Chang and James Reeves, whose newest collaboration, After the End, is currently on view in Green-Wood's Historic Chapel. Candy and James will open the discussion with their insights on grieving and ritual in the twenty-first century, touching on the ways in which science fiction speaks to mortality. We will gather at the Historic Chapel to immerse ourselves in After the End, a stunning public ritual about loss and grief, then transition to the Modern Chapel for discussion.
The Death Cafe is a simple concept. It was inspired by the centuries-old European salon (or cafe) where people gathered informally to discuss ideas. Death Cafes apply this concept to the most universal topic of all, death, creating an opportunity for all of us to share our thoughts and feelings on this difficult topic.
Location: Check-in takes place at the Main Entrance Arch at 25th Street and Fifth Avenue. During the first half hour you are invited to explore the installation in the Historic Chapel before moving to the Modern Chapel for the remainder of the event.
Free. Registration required. Please consider a donation to the Green-Wood Historic Fund so that we can continue to offer free and low-cost programs throughout the year.
Mandatory Safety Protocols
This is an indoor program. Attendees must be fully vaccinated and show proof of vaccination at check-in.
Attendees must wear a face covering while in the Modern and Historic Chapels and maintain at least a 6-foot distance from those not in their group.
Follow ALL instructions and guidance from Cemetery staff and ambassadors.
Travel Safely: Green-Wood recommends following all safety precautions while traveling to and from the Cemetery, whether by foot, mass transit, or driving. If taking mass transit, please check the MTA's guidelines.
Feeling Sick? Stay home if you are feeling sick or running a temperature. Please use good judgement if you have recently been exposed to someone with COVID-19. For more information about COVID-19, please check the CDC website.