"La Santa Muerte (Saint Death)": Documentary Screening and Moderated Discussion with Director Eva Aridjis
October 13, 2015, 7:30pm

–

9:30pm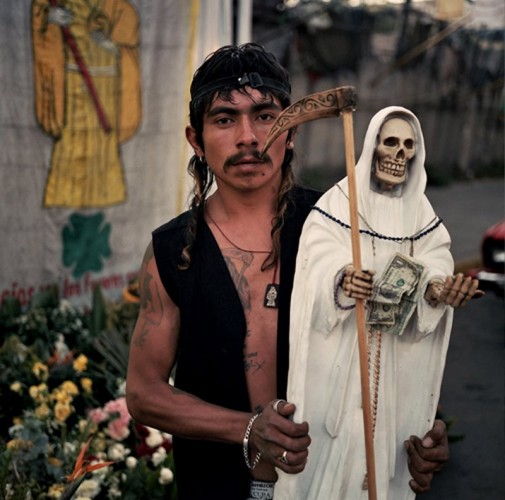 In Mexico there is a rapidly growing cult – that of Saint Death. This female grim reaper, considered a saint by followers but Satanic by the Catholic Church, is worshipped by people whose lives are filled with danger and/or violence- criminals, gang members, transvestites, the sick, drug addicts, and families living in rough neighborhoods. "La Santa Muerte" examines the origins of the cult and takes us on a tour of the altars, jails, and neighborhoods in Mexico where the saint's most devoted followers can be found. Gather in Green-Wood's Historic Chapel for a screening of the film followed by discussion with the film's director, Eva Aridjis and Common Shade's host Evan Michelson. Eva Aridjis is a Mexican filmmaker who has produced and directed several award-winning feature films, including the documentaries "Niños de la Calle" (Children of the Street), "La Santa Muerte" (Saint Death) and "Chuy, El hombre lobo" (Chuy, The Wolf Man) and the narrative films "The Favor" and "Los Ojos Azules" (The Blue Eyes).
Morbid Anatomy Museum and Green-Wood present Common Shade – a dialogue existing on the borderlands between the living and the dead. Hosted in Green-Wood's intimate Historic Chapel, Common Shade will cultivate a social space for death – a place to examine death's prevalence in our lives, and its shifting place in history, art, culture, and society. Drawing from Green-Wood's bucolic setting and using history as our anchor, each night's presentations will include dialogue and interviews with guests. Together with artists, practitioners, scholars, and peers, Common Shade discussions will explore our humble acknowledgments of and engagements with death.
$25 for non-members / $20 for members of Green-Wood, BHS and the Morbid Anatomy Museum. Cash bar (free for Green-Wood Key Holders) available at each event.
Click here for our inclement weather policy.