Become a Citizen Pruner
May 19, 2018, 10:00am

–

2:00pm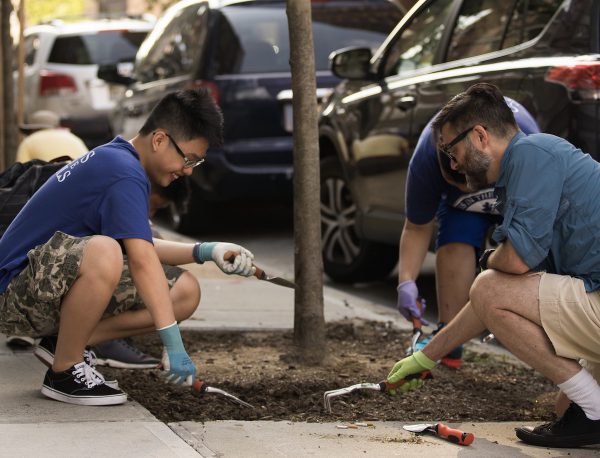 Stewardship and pruning hugely reduce a tree's vulnerability to common urban threats such as pedestrian and vehicular traffic, drought and storms. In New York City, where there is limited funding for tree maintenance but significant need, Citizen Pruners provide a great asset to our urban environment.
The 12 hour Citizen Pruner Course consists of 5 sessions – 4 in the classroom and 1 field outing.
Price: $100, or $15 for residents of Sunset Park (zip Codes 11232 & 11220)
CITIZEN PRUNER COURSE DETAILS
8 hours in the classroom – Students meet for four 2-hour classroom sessions. The comprehensive curriculum includes tree biology, street tree identification, common tree problems and solutions, tree stewardship and pruning.
4 hours in the field – The Saturday field outing is designed to provide students with the opportunity to practice pruning with their peers under the tutelage of their teacher.
Upon successful completion of the final exam, students receive a license from Trees New York and NYCParks to legally prune NYC street trees. Trees New York is the only institution designated to train and license Citizen Pruners in New York City.
Course policies: Students may miss one classroom session if necessary. The weekend field outing is mandatory. All sessions must be taken at the same location. The non-refundable course fee is $100 and includes a comprehensive manual and supplementary materials. Scholarships available to people who live or work in Greenpoint, Brooklyn 11222 or Sunset Park 11232 & 11220
TreesNY is the only institution designated by NYCParks to license New Yorkers to legally prune street trees.
***
Give Trees a Chance: Environmental Justice in South Brooklyn
Green-Wood's own neighborhood, Sunset Park, is one of the fastest growing and most diverse neighborhoods in all of New York City. Yet, it also faces serious environmental challenges. Car and truck exhaust from the Gowanus Expressway and industrial emissions from its small manufacturers create higher than average levels of harmful air pollution. Street trees to the rescue! They're nature's miracle workers: they intercept and absorb storm water runoff, provide oxygen, fight climate change, and lower air temperatures.
The 6,500 street trees of Sunset Park have a job to do. And they need all the help they can get! Together with TreesNY, Green-Wood's horticulture staff is training a team of tree advocates! If you care about the environment, join us. Visit TreesNY's website, www.treesny.org, for more information and to reserve your space.
Funding for this project is provided by the NYS Environmental Protection Fund as administered by the Environmental Justice Community Impact Grant Program of the NYS Department of Environmental Conservation.