Arbor Day Tree Planting
April 30, 2021
,
2:00pm
–
4:00pm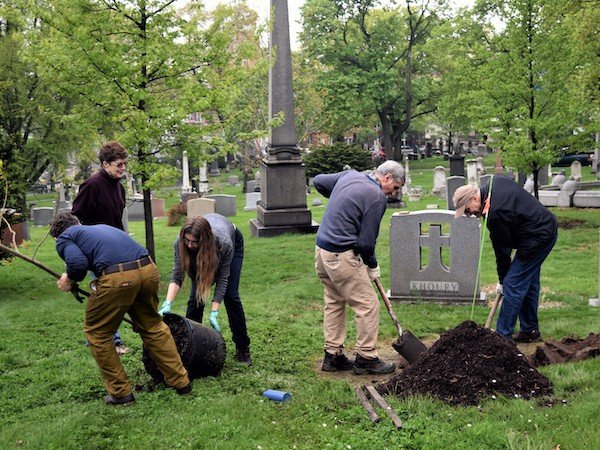 Come plant trees in celebration of Arbor Day! Green-Wood is an accredited Level III Arboretum—one of only 27 in the world—home to over 7,000 trees. And the collection continues to grow! Each new planting is selected for its climate adaptiveness, wildlife value, enhancement of the beauty of the landscape, and resilience. Here's your opportunity to aid in that initiative.
Free to attend, registration required.
Green-Wood's horticulture staff will be there to share their knowledge and love of trees, and to help guide you through the do's and don'ts of tree planting. We will be planting trees in an area where one of our mature tulip trees was felled during Tropical Storm Isaias. We will supply all of the tools and equipment, just wear closed toed shoes and clothing that is allowed to get grimy. A bottle of drinking water and sun protection is recommended!
Location: We will meet at the Fort Hamilton Parkway Entrance located at Fort Hamilton Parkway and Micieli Place.
Mandatory Safety Protocols
Attendees must wear a face covering at all times and maintain at least a 6-foot distance from those not in their group.
The tour guide will be using a voice amplifier to ensure all social-distancing protocols are adhered to.
The walk is over hilly and uneven terrain, comfortable footwear is encouraged.
Follow ALL instructions and guidance from Cemetery staff and ambassadors.
Travel Safely: Green-Wood recommends following all safety precautions while traveling to and from the Cemetery, whether by foot, mass transit, or driving. If taking mass transit, please check the MTA's guidelines.
Feeling Sick? Stay home if you are feeling sick or running a temperature. Please use good judgement if you have recently been exposed to someone with COVID-19. For more information about COVID-19, please check the CDC website.
Green-Wood reserves the right to deny entry to any visitor who refuses to comply with the safety guidelines.
If you observe a situation or behavior that does not reflect these protocols, please advise an ambassador or other staff member immediately. With everyone's cooperation this will be a memorable and safe unique experience.