9:30 a.m. Green-Wood at the Met Day Trip & Tour
March 15, 2012, 9:30am

–

5:00pm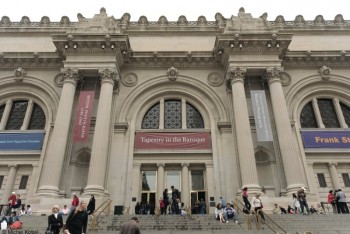 A very special day at The Metropolitan Museum, exploring the world-class art of Green-Wood's permanent residents.
Our trolley leaves Green-Wood at 9:30 a.m. for the drive to The Met. (You're also welcome to meet us there.) We will then go on a private tour of the wonderful new exhibition Duncan Phyfe: Master Cabinetmaker in New York, with co-curator Peter Kenny (who has spent years researching Phyfe). Lunch in The Petrie Court Café, overlooking Central Park, follows.
Then we are off to the just-reopened American Wing for a tour, led by Green-Wood's historian Jeff Richman, of stained glass windows by Louis Comfort Tiffany and John La Farge; silver, jewelry and presentation vases by Tiffany & Co.; paintings by Asher B. Durand, William Merritt Chase and Eastman Johnson; sculpture by Thomas Crawford, and much more. We will return to Green-Wood by trolley, hopefully by about 5:00 p.m.
Tickets are $100 for members of the Green-Wood Historic Fund and $125 for non-members. Includes trolley ride, admission, tours and lunch.
LIMITED TO 25 ATTENDEES ONLY—RESERVE NOW!
To purchase tickets, call 718-210-3080 or order online using the Ticket Information box below — click to Order Now or
Enter Promotional Code (Member ID#) and you will be redirected to our Eventbrite ordering page.
If you are using a credit card linked to a non-U.S. address, or if you've typed in a billing address that does not match that of your credit card, you may see an error message when ordering. If so, please call us at 718-210-3080 from Mon-Fri 8am-4pm Eastern Standard Time or email us at info@greenwoodcemetery.org and we will help you complete your order. Thank you.