1 p.m. The Eminent Irish of Green-Wood Walking Tour
March 18, 2012, 1:00pm

–

3:00pm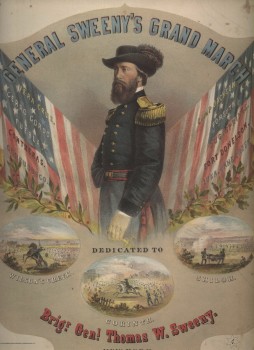 The Irish immigration contributed immeasurably to the rich tapestry of American culture. Green-Wood has its share of the illustrious sons and daughters of Eire, as well as many of the unsung everyday men and women.
Join Historic Fund guide Ruth Edebohls as she visits notable Irish at Green-Wood, including copper magnate Marcus Daly; India Ink manufacturer and American patriot Charles Higgins; one-armed Civil War General Thomas Sweeney (who retired from the U.S. military but went on to lead the Fenian invasion of Canada); Irish patriot Wolfe Tone's widow and son; actress and mistress of the mighty, Lola Montez (Eliza Gilbert), and much more.
Enjoy the magnificent landscaping and vistas of Green-Wood and its fascinating history. Walk may be hilly and strenuous — wear good walking shoes.
Ruth Edebohls worked for the Brooklyn Center for the Urban Environment as its Coordinator of Urban Tours and as a tour guide for 15 years. A Brooklyn native, she is a licensed New York City Tour Guide and urban historian with a special enthusiasm for Green-Wood Cemetery. Over the years, she has created and led many fascinating tours of Green-Wood.
Tickets are $10 for members of the Green-Wood Historic Fund and $15 for non-members. Reservations recommended.
To purchase tickets, call 718-210-3080 or order online using the Ticket Information box below — click to Order Now or Enter Promotional Code (Member ID#) and you will be redirected to our Eventbrite ordering page.
If you are using a credit card linked to a non-U.S. address, or if you've typed in a billing address that does not match that of your credit card, you may see an error message when ordering. If so, please call us at 718-210-3080 from Mon-Fri 8am-4pm Eastern Standard Time or email us at info@greenwoodcemetery.org and we will help you complete your order. Thank you.
Not a Member?
Get a free ticket with a membership at left and purchase additional Member Discount Tickets if desired. Click here for all of our membership levels and information.
Already a Member?
Click the "Enter promotional code here (members, use your ID#)" link in the bottom right corner of the ticket box and enter your ID number to apply your ticket discount. Please note that the Senior, Individual and Student membership levels are limited to only one Member Ticket per event (for additional tickets, please purchase at the regular price).
Questions?
Don't know your Member ID number? Not sure which ticket or membership type to order? Call 718-210-3080 or email contactus@green-wood.com with any questions.