1 p.m. The Azaleas and Dogwoods of Green-Wood Trolley Tour
May 4, 2014, 1:00pm

–

3:00pm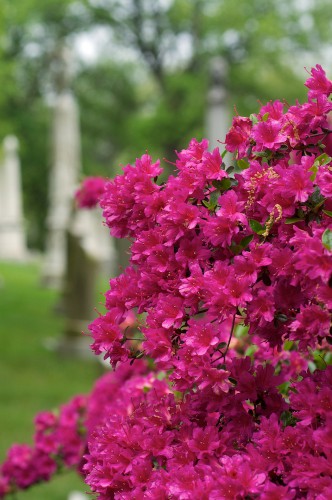 Do not attempt to adjust your dials – our spring colors really are that vibrant! Green-Wood's Superintendent of Grounds and resident expert in all things green (and pink, yellow, white and purple), Art Presson will dazzle you with the extraordinary beauty of the spring blooms at Green-Wood.
Whether you're the kind of person who sees white blooms and says "that's a Cornus florida flowering dogwood!" or you're more the "that's pretty—I wonder what it's called" kind of person, this tour will be a visual extravaganza. With over 8,000 trees across 478 acres, Green-Wood is one of the most beautiful places in all of New York City.
$15 for members of Green-Wood / $20 for nonmembers.
Green-Wood trolley tours are fully accessible and ADA compliant. Click here for our inclement weather policy.
Not a Member?
Get a free ticket with a membership at left and purchase additional Member Discount Tickets if desired. Click here for all of our membership levels and information.
Already a Member?
Click the "Enter promotional code here (members, use your ID#)" link in the bottom right corner of the ticket box and enter your ID number to apply your ticket discount. Please note that the Senior, Individual and Student membership levels are limited to only one Member Ticket per event (for additional tickets, please purchase at the regular price).
Questions?
Don't know your Member ID number? Not sure which ticket or membership type to order? Call 718-210-3080 or email jconnolly@green-wood.com with any questions.