1 p.m. Scandals, Scalawags & Murder Most Foul Trolley Tour
June 8, 2013, 1:00pm

–

3:00pm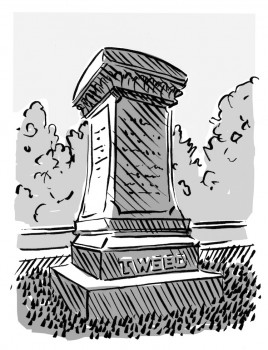 Visit some of Green-Wood's most nefarious residents with veteran tour guide Ruth Edebohls.
Green-Wood is the final resting place of many famous and heroic people, but the reputations of some of its denizens are a bit more blemished. Murderers and the murdered, a sullied adulteress, a famous courtesan, gangsters, con men and schemers all lie next to those of a more virtuous disposition.
$10 for members of Green-Wood/$15 for nonmembers
Not a Member?
Get a free ticket with a membership at left and purchase additional Member Discount Tickets if desired. Click here for all of our membership levels and information.
Already a Member?
Click the "Enter promotional code here (members, use your ID#)" link in the bottom right corner of the ticket box and enter your ID number to apply your ticket discount. Please note that the Senior, Individual and Student membership levels are limited to only one Member Ticket per event (for additional tickets, please purchase at the regular price).
Questions?
Don't know your Member ID number? Not sure which ticket or membership type to order? Call 718-210-3080 or email contactus@green-wood.com with any questions.