1 p.m. Historic Trolley Tour
January 4, 2012, 1:00pm

–

3:00pm

$15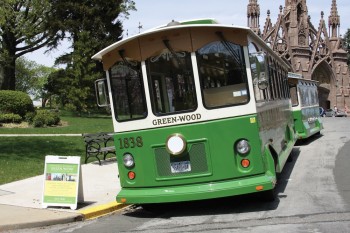 Experience the most magnificent and historic 478 acres in New York City. Join our expert tour guide to hear fascinating stories of Green-Wood's permanent residents, see breathtaking views of Manhattan, tread where George Washington and his troops fought the Battle of Brooklyn and much more.
Dec 2011 – Feb 2012 Winter Trolley Tour Schedule:
Wednesday, December 7: Hidden Gems of Green-Wood
Wednesday, December 14: Discover Green-Wood
Wednesday, December 21: The Far Side of Green-Wood
Wednesday, December 28: Hidden Gems of Green-Wood
Wednesday, January 4: Discover Green-Wood
Wednesday, January 11: The Far Side of Green-Wood
Wednesday, January 18: Hidden Gems of Green-Wood
Wednesday, January 25: Discover Green-Wood
Sunday, January 29: Discover Green-Wood
Wednesday, February 1: The Far Side of Green-Wood
Wednesday, February 8: Hidden Gems of Green-Wood
Wednesday, February 15: Discover Green-Wood
Wednesday, February 22: The Far Side of Green-Wood
Sunday, February 26: Discover Green-Wood
Wednesday, February 29: Hidden Gems of Green-Wood
Click here for more information on Green-Wood's rotation of three different tours. Each boasts great views, beautiful monuments throughout, rolling hills, century-old trees and stories of the fascinating persons interred at Green-Wood, in addition to a visit to the Historic Chapel and to Battle Hill and several stops where visitors have the option to walk outside.
Our Historic Fund trolley tour guides:
Green-Wood's trolley tour guide Marge Raymond fell in love with Green-Wood Cemetery 25 years ago as a birdwatcher and naturalist. She brings to her tours her enthusiasm and passion for Green-Wood's famous residents, its history, trees and animals. Marge, a professional singer, has been a volunteer since 2002 with The Green-Wood Historic Fund's Civil War Project and has helped to staff The Historic Fund's information and sales cart since its inception. She has been known to break into an occasional song during her tours.
A Brooklyn native, Ruth Edebohls is a licensed New York City tour guide and urban historian with a special enthusiasm for Green-Wood Cemetery. After working for the Brooklyn Center for the Urban Environment as its Coordinator of Urban Tours and as a tour guide for 15 years, Ruth became a tour guide for the Green-Wood Historic Fund several years ago. She has created and led a host of fascinating tours of Green-Wood.
After retiring from many years of teaching, Tom Russell became a volunteer at Green-Wood in 2003, greeting visitors and answering their questions. Tom long has been fascinated with the cemetery's history, architecture, topography, natural beauty, and the stories of its permanent residents. His greatest interest is Green-Wood's visitors who come from around the country and the world to see this great place.
Meeting Point: Inside Main Entrance at 25th Street and 5th Avenue
$10 for members of The Green-Wood Historic Fund / $15 for non-members. Seating is limited. Reservations strongly recommended.
To purchase tickets, call 718-210-3080 or order online using the Ticket Information box below. Select your date, ticket quantity, and click to Order Now or Enter Promotional Code (Member ID#) and you will be redirected to our Eventbrite ordering page.
If you are using a credit card linked to a non-U.S. address, or if you've typed in a billing address that does not match that of your credit card, you may see an error message when ordering. If so, please call us at 718-210-3080 from Mon-Fri 8am-4pm Eastern Standard Time or email us at info@greenwoodcemetery.org and we will help you complete your order. Thank you.
Not a Member?
Get a free ticket with a membership at left and purchase additional Member Discount Tickets if desired. Click here for all of our membership levels and information.
Already a Member?
Click the "Enter promotional code here (members, use your ID#)" link in the bottom right corner of the ticket box and enter your ID number to apply your ticket discount. Please note that the Senior, Individual and Student membership levels are limited to only one Member Ticket per event (for additional tickets, please purchase at the regular price).
Questions?
Don't know your Member ID number? Not sure which ticket or membership type to order? Call 718-210-3080 or email contactus@green-wood.com with any questions.