1 p.m. Bannerman Castle: The Medieval Ruins of Hudson Valley
April 12, 2014, 1:00pm

–

3:00pm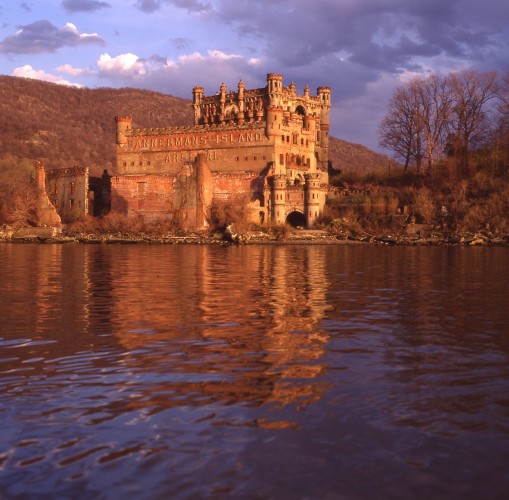 For generations, boat and train passengers have been mystified by the sight of castle-like structures looming on an island in the Hudson River. Join Wes and Barbara Gottlock, authors of a book on the subject and tour guides of the island, as they detail the history of this remarkable site, dating back to 1900 when the land was purchased by Brooklyn resident Francis Bannerman (now buried at Green-Wood) for the storage of military goods which he sold through a world famous Civil War-era catalog. With extensive research and stunning photographs, the Gottlocks will cover the island's rise as a glorious landmark and its eventual decline – plus the recent calls for preservation and restoration. Buy a book and have it signed, then board the trolley for a short Green-Wood tour, including a stop at the Bannerman family plot.
This event has two parts, with separate tickets for each part:
1. The free talk in the historic Green-Wood chapel.
2. A guided trolley tour immediately following the talk. Tickets are $15 for members of the Green-Wood Historic Fund and $20 for nonmembers.
Please include both free talk tickets and trolley tour tickets in your order if you would like to attend both parts of the event. Seating is limited for both the talk and the trolley tour, and reservations are recommended.
Green-Wood trolley tours are fully accessible and ADA compliant. Click here for our inclement weather policy.
Not a Member?
Get a free ticket with a membership at left and purchase additional Member Discount Tickets if desired. Click here for all of our membership levels and information.
Already a Member?
Click the "Enter promotional code here (members, use your ID#)" link in the bottom right corner of the ticket box and enter your ID number to apply your ticket discount. Please note that the Senior, Individual and Student membership levels are limited to only one Member Ticket per event (for additional tickets, please purchase at the regular price).
Questions?
Don't know your Member ID number? Not sure which ticket or membership type to order? Call 718-210-3080 or email jconnolly@green-wood.com with any questions.