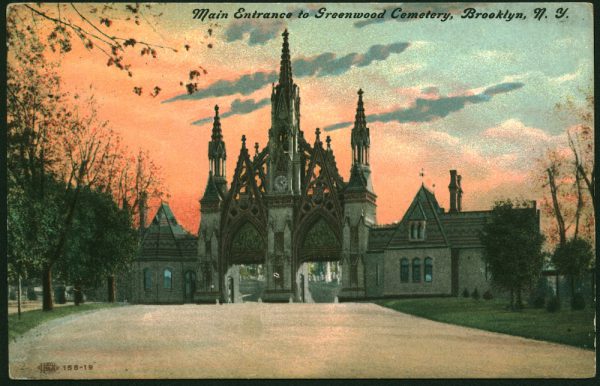 About Green-Wood's Archives & Collections
The Green-Wood Cemetery was founded in 1838 as one of America's first rural cemeteries. Still an active cemetery, the Green-Wood of today is also a cultural institution, an outdoor museum that tells the history and evokes the cultures of the borough, the city and the nation. Today, Green-Wood's 478 acres serve as the final resting place for over 570,000 permanent residents.
Over the last two decades, Green-Wood has amassed a collection of art, artifacts, and documents to illustrate Green-Wood's rich history and celebrate the memory of those who have chosen it as their final resting place. Additionally Green-Wood maintains vast institutional archives, dating from 1838 to the present. Together, these collections help to tell the countless stories of Green-Wood and its residents – stories that yearn to be remembered and told for generations to come.
The mission of the collections of The Green-Wood Historic Fund and the archives of The Green-Wood Cemetery is to advance public knowledge and appreciation of Green-Wood. Collected materials function as visual resources for illuminating the rich history of the Cemetery and its permanent residents, and support the larger mission of The Green-Wood Historic Fund by fostering and enriching exhibitions, educational activities, scholarly research, and public programming.
Click for details on Green-Wood's Collections and Archives.
Archives: For general information on Green-Wood's Institutional archives and for internship and volunteer opportunities, please email us at Archives@green-wood.com.
Collections: For general information on Green-Wood's Collection of art and artifacts, to schedule a research visit, or to inquire about rights and reproduction, please email us at Collections@green-wood.com.