There is always another story to be discovered at Green-Wood.
I was recently out in section 52, lots 8022-8027–the Bangs Family Lots–looking for a particular gravestone. These lots form a large circle, just feet from the intersection of Locust and Southwood Avenues. Several prominent people are interred in those lots, including Francis N. Bangs (1828-1885), a prominent lawyer who founded the precursor law firm to the very famous and existing firm of Davis, Polk, and Wardwell. Francis N. Bangs also was a founder of the New York City Bar Association and served as its president. John Kendrick Bangs (1862-1922), his son, is also interred there; he was a leading writer, editor, and satirist.
As I looked around, I noticed this stone:
The inscription identifies two brothers who served in the Army of the United States ("AUS") during World War II:  First Lieutenant Francis N. Bangs, Jr., who was born in New York City on January 17, 1922, and died in Belgium on December 18, 1944, and his younger brother, Private First Class ("PFC") Whitney W. Bangs, who was born in New York City on June 2, 1924, and died in Germany on March 5, 1945. The inscription describes them as "BELOVED SONS OF CATHERINE C. AND FRANCIS N. BANGS" and concludes with this sad note:  "BURIED ON FOREIGN BATTLEFIELDS."
I was intrigued. Researching the matter, I found these photographs of the brothers: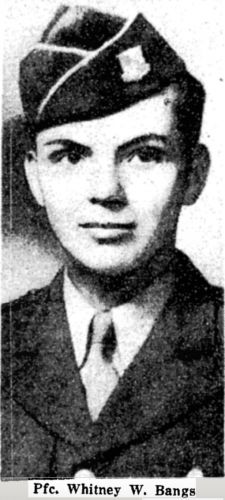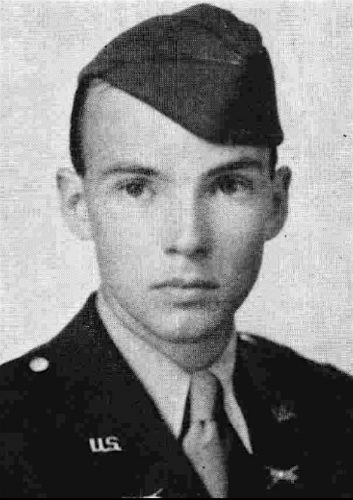 They look so young!
Born in Manhattan, Francis lived there with his parents at 1238 Madison Avenue (at 89th Street). In 1940, he graduated from St. Paul's School in Concord, New Hampshire. He enlisted in New York City on January 27, 1940 in Troop E, 101st Cavalry. His occupation on his enlistment records:  actor. Specializing in radio and communications, Francis attended and graduated from Officers' Candidate School in Fort Knox, Kentucky, then served as a second lieutenant in the 703rd Tank Destroyer Battalion. In October of 1942, while in the Army, his engagement to Caroline B. Joes of Louisville, Kentucky, was announced. Promoted to first lieutenant in 1943, he shipped out to England in August of 1943, and landed in France on July 1, 1944. Attached to the Third Armored Division, he was killed in action in Henri-Chapelle, Belgium, on December 18, 1944. He is interred in Henri-Chapelle American Cemetery, Plot H, Row 15, Grave 46. Here's that cemetery, in a recent photograph:
His younger brother, Whitney Waldo Bangs, also was born in Manhattan and lived with his parents and siblings on Madison Avenue. He attended the Allen Stevenson School in Manhattan and graduated from the St. Paul's School in Concord, New Hampshire in 1943. Inducted into the Army soon after his high school graduation, in July, 1943, he was assigned to the front in Europe, with the Third Army, 94th Infantry Division, fighting German forces. Wounded in action in November, 1944, he was awarded the Purple Heart. After he recovered, he was sent back into combat, and was reported missing two months later. The New York Times, on February 9, 1945, headlined the sad story of the Bangs brothers:  "One Son Dead, Other Missing." Whitney died, a prisoner of war, in Germany on March 5, 1945, just two months and two days before that country surrendered. His parents, who are interred at Green-Wood in the Bangs Family Lot, were not informed by the War Department until May 7, 1945–the exact date of Germany's surrender–that their youngest–and only remaining son–was dead. He is interred next to his brother in Henri-Chapelle American Cemetery, Plot H, Row 15, grave 45. These are their side-by-side gravestones: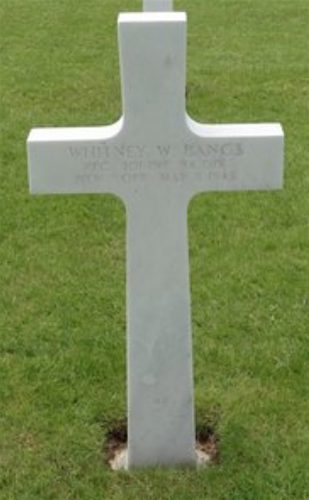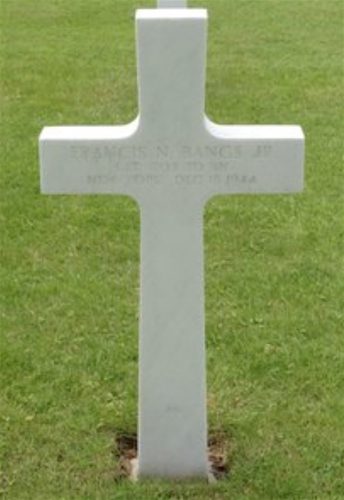 The boys were survived by their parents, Francis N. and Catherine C. Bangs, and their sister, Catherine F. Bangs (who was four years younger than Frances and one year younger than Whitney). She was their parents' only surviving child. Mr and Mrs. Bangs sacrificed both of their sons–patriotically–to defeat Germany in World War II. The cenotaph honoring and remembering Lieutenant Frances N. Bangs, Jr., and his brother, Pfc. Whitney Bangs, stands in the Bangs Family Lots at Green-Wood.