The Green-Wood Historic Fund recently lent a magnificent bronze of Civil War Brigadier General Thomas Sweeny to the exhibition, "American Heroes in Bronze: The Artwork of James E. Kelly," at Macculloch Hall Historical Museum in Morristown, New Jersey. You will find more on Sweeny's fascinating story, from an earlier blog post, here.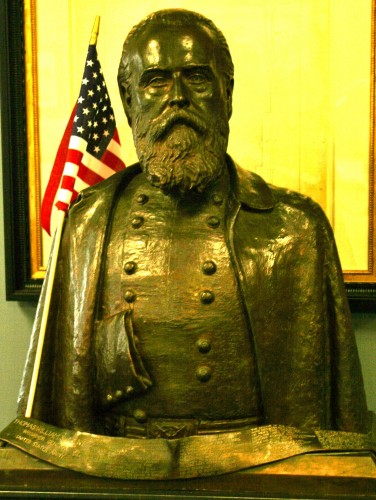 As the museum reports about this just-opened exhibition,
"American Heroes"  . . . is co-curated by William B. Styple and the Museum's Curator of Collections Ryan Hyman. This unique exhibit explores the work of Irish-American sculptor James E. Kelly (1855-1933). In the decades following the American Civil War, over forty Union Generals visited the New York City studio of Kelly, who was highly respected for his artwork's historical accuracy. While the war heroes sat, the artist conducted in-depth interviews regarding their wartime service, and heard their very personal stories of Fort Sumter, Antietam, Gettysburg, and Appomattox. The work resulting from these personal interviews presents a unique perspective on the famous figures and events from the Civil War. Also included in this exhibition are Kelly's depictions of notable events from the Revolutionary War and well known civilians such as Thomas Edison and Clara Barton. Bas reliefs, busts, engravings and bronze sculptures depict these heroes. The collection of Kelly's work is on loan from private collectors and can be viewed during touring hours until October 31st.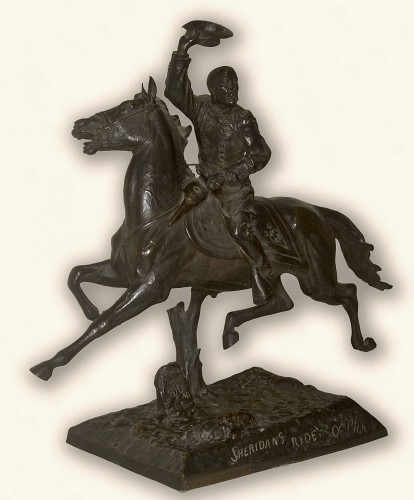 Historian and author William B. Styple discovered Kelly's interviews with Generals Grant, Sherman, Sheridan, Hancock, Warren, Chamberlain and many others, at the New-York Historical Society, where they had been stored and forgotten. His fascinating book, "Generals in Bronze—Interviewing the Commanders of the Civil War," a transcription of Kelly's notes, was published in 2005.
You may find more information about the exhibition at the museum's website.