Ever on the watch for items for our Green-Wood Historic Fund Collections, I recently came across this photograph. And, after doing some research, I purchased it for Green-Wood.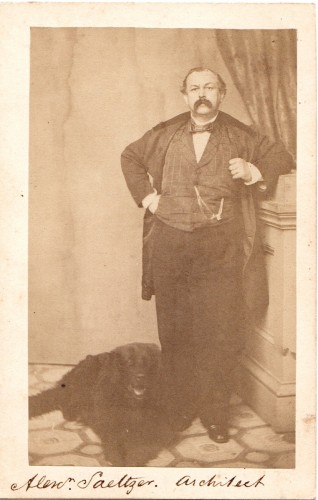 That name–Alexander Saeltzer–rang a bell for me–I am quite the fan of 19th-century New York City architecture and architects. So, I did some research. It turns out that Alexander Saeltzer was a German-trained architect who designed several fine buildings in New York City: the first (now center) section of what was then the Astor Library–and what we now know as the Joseph Papp Public Theater on Lafayette Place, the Ansche Chesed Temple at 172 Norfolk Street, and the Academy of Music that stood on 14th Street at Irving Place.
I checked Green-Wood's online Burial Search database–and up popped information that an individual with that same name–Alexander Saeltzer–had been interred at Green-Wood on September 26, 1883. Was he the architect Alexander Saeltzer? I could not find the architect's year of birth or death on the Internet. However, according to Green-Wood's records, the Alexander Saeltzer interred there was a native of Saxony (a part of Germany) who died on September 23, 1883, at the age of 69. Germany was a match for the architect. And, given these dates, the individual at Green-Wood was likely born in 1814. I checked an 1850 guide to New York City–based on information there, it appears that the architect was born around 1820. That seemed like a pretty good match. Looking at the photograph, a carte de visite which, given the era of the popularity of that size photograph, probably dates from the early 1860s, I thought the individual in the photograph looks like he was about 45 years old when the photograph was taken. Taking the date of the photograph as about 1862, that would give him a birth year of about 1817. So the year of birth of the architect and that of the man of the same name who is interred at Green-Wood seemed to be consistent with each other. I also found a passenger and immigration list from August 6, 1842, listing Alexander Saeltzer as 28 years old and traveling on the ship Meta from Bremen to New York City. That age matches the 1814 birth year for the Alexander Saeltzer as Green-Wood. Another record indicates that an Alexander Saeltzer became a naturalized citizen in New York City on May 22, 1855.
I checked New York City directories online. In the 1857 directory, an Alexander Saeltzer is listed as an architect. And, in the 1868 directory, an Alexander Saeltzer also is listed as an architect. More importantly, each of these directories has only one man named Alexander Saeltzer listed. So, at the very least, Alexander Saeltzer was a rare name in New York City back then–and perhaps even a unique name. In all, my conclusion: the Alexander Saeltzer interred at Green-Wood is the architect Alexander Saeltzer.
So, what did architect Alexander Saeltzer design? The Ansche Chesed congregation, composed mostly of German Jews, hired him to build its synagogue, which opened at 172 Norfolk Street in 1850. It is the oldest surviving synagogue building in New York City and the fourth oldest in America. In Gothic Revival style, is was the largest U.S. synagogue when it was built, holding up to 1500 worshipers. Now an art studio and the Shul of New York, it is a New York City Landmark.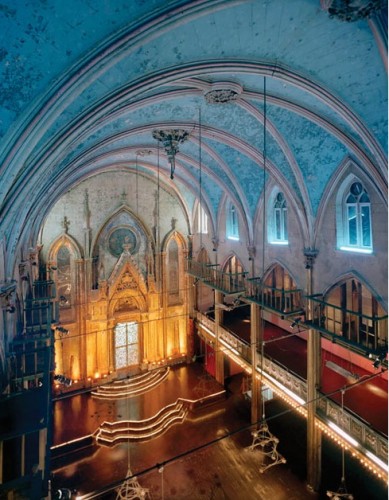 The original section of the Astor Library (it was subsequently expanded by other architects) also was designed by Saeltzer; its cornerstone was laid in 1850 and construction was completed in 1853. It was designed to hold 100,000 books and to be fireproof. It opened to the public in 1854.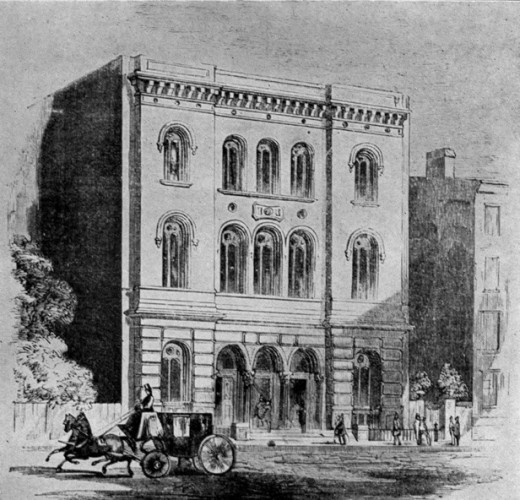 It was free to all over the age of 14, but it was for research only–no books could be checked out. And it was open only during working hours–a real problem for anyone with a job. A matching addition, by architect Griffith Thomas (who also is interred at Green-Wood), opened in 1859. A second similar addition, by architect Thomas Stent, opened in 1881.
In 1895, the Astor Library was consolidated with the New York Public Library. And, in 1911, its books were moved to NYPL's then-new building at 42nd Street and Fifth Avenue. But, by 1965, the Astor Library building was empty and facing demolition; fortunately, New York City stepped in and bought it for the Public Theater, which is still there.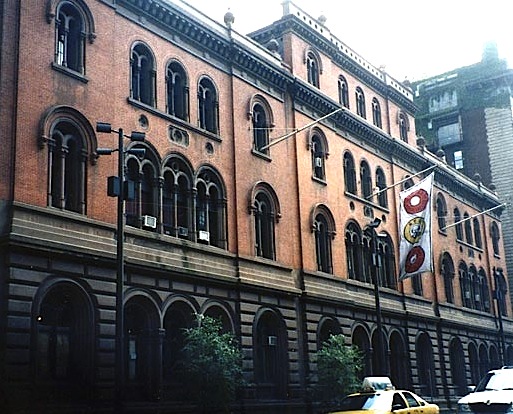 For three decades in the mid-19th century, the Academy of Music was the place for grand New York City celebrations–whether it was hosting visiting royals such as the Prince of Wales in 1860 or the Grand Duke of Russia in 1871, the Russian fleet in 1863, the New York Philharmonic, Italian opera, Chinese Acrobats in 1867, or Elmer Ellsworth's Chicago Zouave soldiers in 1860. With 4600 seats, it was the largest opera house in the world.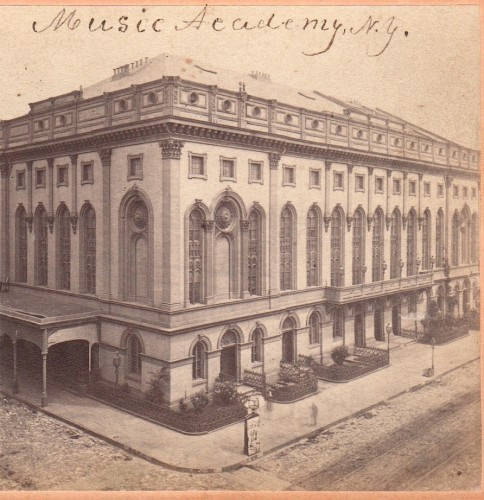 Construction of the first Academy of Music was completed in 1854. Its architect: Alexander Saeltzer. It was destroyed by fire in 1866, then rebuilt. The opening of the Metropolitan Opera, uptown, in 1883, dealt a deathblow to the Academy; it closed in 1886.
Alexander Saeltzer is interred, with his wife, Jeanette, in Green-Wood's section 109, lot 14567, just up Battle Avenue from the main gates. Neither Alexander's nor Jeanette's grave is marked.