Last week, Dorothy Koppelman, widow of artist Chaim Koppelman, generously donated one of his artist's proofs to Green-Wood's collections.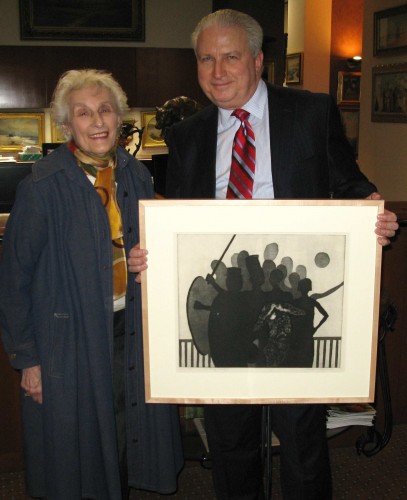 Chaim Koppelman was born in Brooklyn in 1920.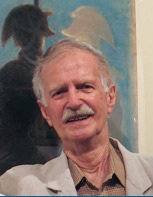 He studied art in WPA classes, married painter Dorothy Myers in 1943, then took part in the World War II Normandy invasion and earned a bronze star. Returning home, he studied art under the GI Bill. In 1955, Dorothy and Chaim opened the Terrain Gallery–she was the director, he the print curator. They were students of Eli Siegel's Aesthetic Realism (Siegel is also interred at Green-Wood), and that greatly influenced their art and exhibitions. He taught for many years and served as president of the American Society of Graphic Artists, receiving a lifetime achievement award from that organization in 2004. He died in 2009 and was cremated.
When his widow, in making arrangements for the interment of his ashes at Green-Wood, learned that Green-Wood has been collecting the art of its permanent residents, she offered to donate one of Chaim's works.
So, this past week, a group gathered at Green-Wood to pay their respects to Chaim Koppelman as his remains were interred.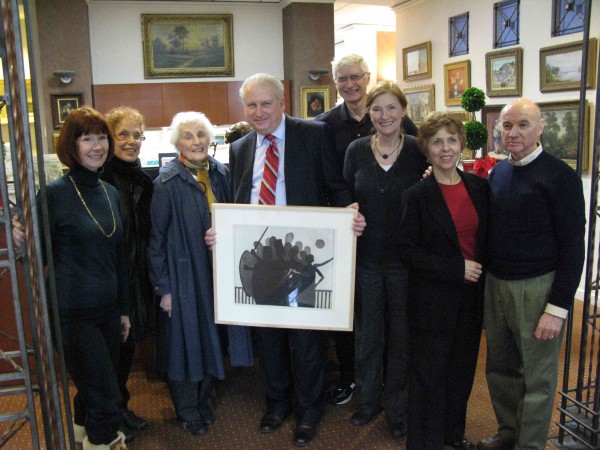 Thanks to Dorothy Koppelman for her generous donation!
If you would like to learn more about Chaim Koppelman, you can find the website devoted to his life and his art here.