This past Saturday, we hosted a great group of about 100 people from the New York Landmarks Conservancy.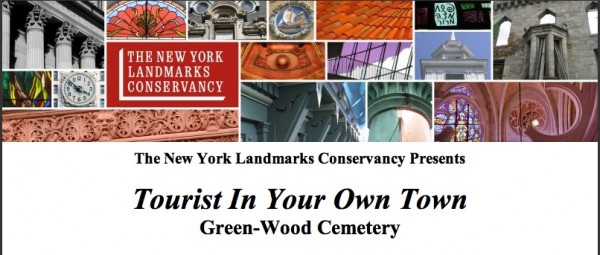 I led two trolley tours of the grounds. We set up a tent and served lunch. It was a pleasure to share Green-Wood with a great group of enthusiastic New Yorkers. It is always a thrill to introduce Green-Wood to New Yorkers who, for one reason or another, have just never made here before.
And it looks like our visitors were suitably impressed. Here's the text from their post-visit e-mail:
Green-Wood Cemetery – National Historic Landmark
We continue with our series of Landmark Tours with a visit to Green-Wood Cemetery in Brooklyn – a National Historic Landmark with remarkable architecture. The main entrance gate was designed by Richard Upjohn and built in 1861 and is a City Landmark. The 1911 Chapel was designed by Whitney Warren and Charles Wetmore, who also designed Grand Central Station.
With beautiful landscapes and monuments, a Revolutionary War historic site and the resting place of many notable figures, Green-Wood is often described as an outdoor museum. It covers 478 acres with four lakes, thousands of trees and a wildlife sanctuary.
For more information visit www.green-wood.com
And here's the wonderful 65 second video that the Landmarks Conservancy produced about Green-Wood. Great work!