Well, this is interesting.
As you may know, New York City just banned smoking in public parks.
But, Green-Wood did that more than a century ago.
I just took a look at one of the passes issued by the cemetery to lot owners in its early years. We have many of these passes in our archives–thousands and thousands were issued. Here's one.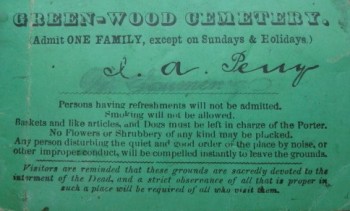 Take a look at what it specifies: no refreshments, no baskets, no dogs, and NO SMOKING. Who knew? And, by the way, don't pick the flowers and don't "disturb the quiet!"
This pass is signed by J.A. Perry, at the time Green-Wood's comptroller. He was Joseph Perry. Next time you visit Green-Wood, go up the granite stairs that are just in front of you as you pass through the Arches. There lies Joseph Perry, beneath a very nice granite monument, adorned by a bronze portrait of him.