Back in March, I reported on Green-Wood's efforts to save "Civic Virtue," the Frederick MacMonnies sculpture that was deteriorating in Queens. We offered to restore "Civic Virtue" and give it a good home at Green-Wood; NYC authorities declined the invitation. If you would like to read that post, click here.
We were anxious to bring "Civic Virtue" to Green-Wood for several reasons. Green-Wood has been a sculpture garden for more than a century and a half. It would have been great to add a piece by one of America's great Beaux Art sculptors, Frederick MacMonnies (1863-1937). And, much of the MacMonnies family is interred at Green-Wood; though Frederick was to have been interred there also, plans changed (it may be that his family was unhappy with his philandering) after his death and he wound up being interred elsewhere.
So, having lost out on "Civic Virtue," we thought that we might never see one of MacMonnies's works at Green-Wood. Well, don't despair; it turns out that we already have one–it's just that we didn't know it.
Just last week, Green-Wood's president, Rich Moylan, was at a sculpture talk. There he happened to meet E. Adina Gordon, who just happens to be the author of the catalogue raisonne of Frederick MacMonnies's sculpture. During the course of their conversation, she told Rich that we did indeed have a MacMonnies–the pink Tennessee granite monument to James Wall Finn, dating from 1916. That is very exciting news!
Now, that name, James Wall Finn, may ring a bell for some of you. James Wall Finn was a muralist for Tiffany Studios. In the Summer 2008 issue of our Arch, an article I researched and wrote about Finn appeared. Here is that Arch issue; then just go to pages 18-19.
Finn had quite a career. He did the murals for the residences of John Jacob Astor IV at 840 Fifth Avenue, Thomas Fortune Ryan at 858 Fifth Avenue, and Payne Whitney at 972 Fifth Avenue. He also created murals for the New Amsterdam and Lyceum Theaters. Finn also worked for John Jacob Astor, with MacMonnies, on decorations for the landmarked Hotel Knickerbocker at 42nd Street and Broadway (where the martini was invented by the house bartender in 1912). And, he painted the ceiling of J.P. Morgan's study with a coat of arms, the library ceiling at the Crocker Mansion in Darlington, New Jersey, and did decorative painting for the New York Public Library Building at 42nd Street and Fifth Avenue.
So, here is the monument to James Wall Finn, by fellow artist Frederick MacMonnies, as it looked when Frank Morelli, supervisor of our Restoration Team, saw it last week.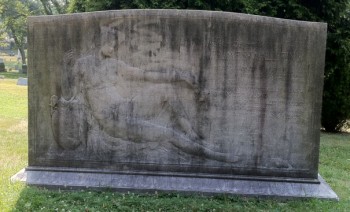 And here's the same monument, after its cleaning last week: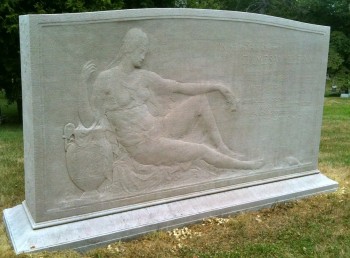 On the right side of the face of the monument, this text appears: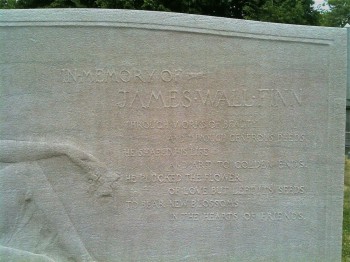 IN MEMORY OF
JAMES*WALL*FINN
THROUGH WORKS OF BEAUTY
AND THROUGH GENEROUS DEEDS
HE SHAPED HIS LIFE
AND ART TO GOLDEN ENDS
HE PLUCKED THE FLOWER
OF LOVE BUT LEFT HIS SEEDS
TO BEAR NEW BLOSSOMS
IN THE HEARTS OF FRIENDS.
Here's one of the ends of the monument; MacMonnies decorated  them also.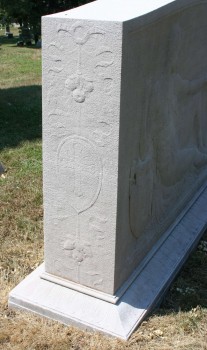 And here is the female figure carved on the monument: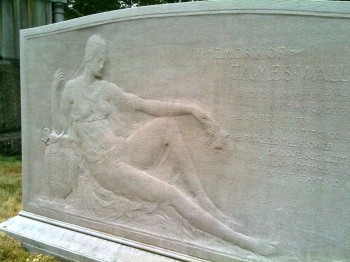 James Wall Finn is interred in section 13, lot 8947.