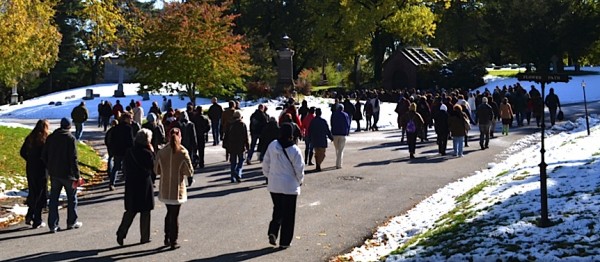 I've been leading Halloween-related tours of Green-Wood (featuring spirits, murders, and mayhem) for about 20 years now. It has always been one on the Saturday before Halloween, then one on the Sunday. And, not surprisingly, given the association of cemeteries and Halloween, these are typically our biggest tours of the year.
But this year was different. With forecasts of rain, wind, and snow from a Nor'easter, we decided on Friday to go to Plan B: do two tours on Sunday, one at 1:00 p.m. (as scheduled) and the other at 4:00 p.m. (for those who had signed up for the Saturday tour that was about to be rained out) and for anyone else who wanted to join us for a first ever: a pre-Halloween tour that would finish up in a dark cemetery.
I was a bit nervous–doing a walking tour is pretty tiring, and doing two in one day–particularly because we go all the way out to the grave of Frank Morgan–the Wizard of Oz in the great Judy Garland movie–about a mile each way–was not something I had ever done before. Also, I typically do two different tours–one up Battle Avenue and beyond on Saturdays, and one past Valley Water on Sundays. Because I usually have separate days for each of the tours, I have a chance to work on the Saturday material, getting dates and details right, then work on the Sunday tour afterwards. But this year, with the last minute change in schedule, both tours would be on the same day, within minutes of each other.  So I considered doing the same tour twice, but ultimately decided against that–I wanted to share as many different stories as possible with our visitors.
Well, it turned out that not only was the weather on Saturday awful, but snow had accumulated on the ground. So, late Saturday night I sent a list out of the roads that I intended to use for the walks, and a cemetery crew headed by Danny Rodriguez was out working by 4:00 a.m., plowing those roads. They did a great job–all the roads were clear by the time the tours began. But we were not as lucky with the paths. I checked a few key paths on my way in Sunday that I needed to use for the tours and discovered that some of them were snow-covered. But I also noticed that there was no snow under the trees–so that we would be able to find alternative routes to get where we were going.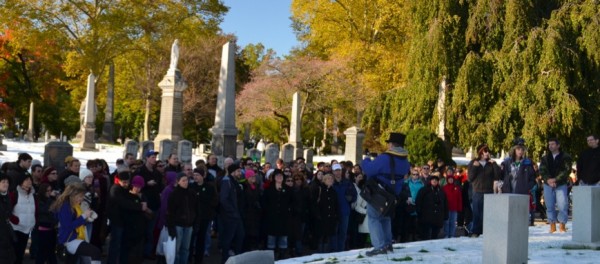 The 1:00 p.m. tour had an amazing 349 people on it. That is the largest walking tour I have ever done–I've had groups over 200, but never this big. We used one mic and two very good speakers (carried by volunteers Mark and Rich) and, it seemed, everyone could hear.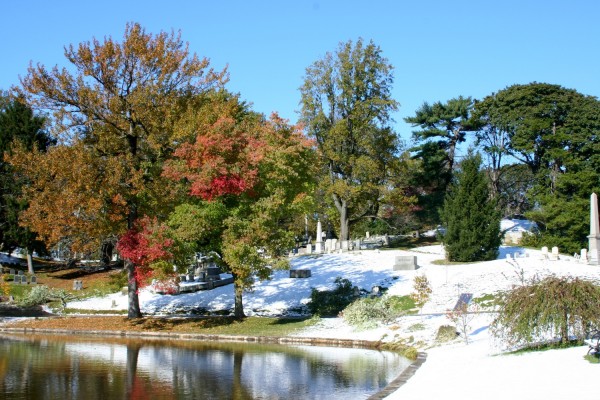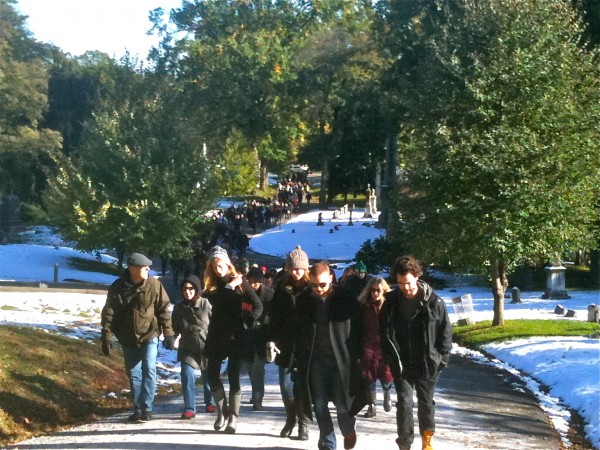 It did, of course, take quite a bit of time to move a group that big, but otherwise, based on the feedback I got, all seems to have gone well.
I did have to leave out a few sites, such as the Fox Family (who played a key role in the birth of Spiritualism), simply because their graves, and the path leading to them, were covered with snow. The second tour was quite a bit smaller–118 by our count–but went well also. It was very special to lead the tour as the sun set, to take visitors by flashlight into a darkened Catacombs, and then to walk back to the cemetery's main entrance in the dark, with a bright crescent moon shining high in the sky.
Thanks to all of the staff at Green-Wood, the volunteers, and the participants, who helped make these tours work so well. And thanks to those of you who were unable to make the rescheduled tour, but donated your ticket purchase price to The Green-Wood Historic Fund–that is very generous of you. The very good news: all proceeds from these tours go to our Historic Fund, to pay for upcoming events (trolley and walking tours, book signings, movies, publications, etc.) and projects (a new Green-Wood app, restorations of monuments), and more. Thanks!