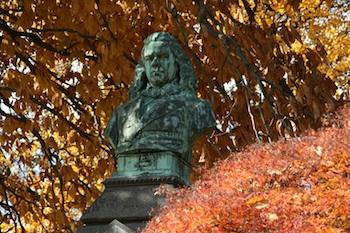 For several years we've talked about doing a Birthday Calendar for Green-Wood's permanent residents. Here's our first effort: July. Among Green-Wood Cemetery's permanent residents whose birthdays occurred in the month of July are: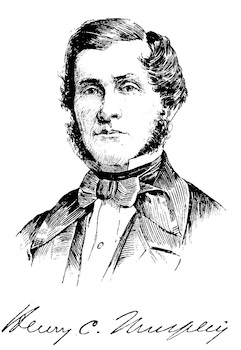 July 5, 1810: Henry Cruse Murphy; the "Moses of the Brooklyn Bridge;" played a key role in its construction, only to die just months before the Bridge opened; born in Brooklyn; died in 1882 in Brooklyn.
July 7, 1886: Francis Hartung; died on board the passenger paddle steamer, the General Slocum, when it caught fire on June 15, 1904 in the East River. It is estimated that 1,021 of the 1,342 passengers were killed.
July 8, 1836: Martha Bulloch Roosevelt; mother of President Theodore Roosevelt; born in Hartford, Connecticut; died in 1884 in New York City.
July 9, 1819: Elias Howe; inventor of the sewing machine; born in Spencer, Massachusetts; died in 1867 in Brooklyn. His bronze bust, atop the Howe family's central monument at Green-Wood, by sculptor Charles Calverley, is above.
July 15, 1831: Richard Auchmuty; architect, Union officer, and philanthropist, whose leg was buried at Green-Wood Cemetery four months before he died; born in New York City; died in Lenox, Massachusetts, 1893. Sorry; no photograph of his amputated leg available.
July 18, 1830: Paul Ambrose Oliver; Civil War Congressional Medal of Honor winner, who is credited with inventing black powder and dynamite; born on shipboard in the English Channel; died 1912. We have in our Historic Fund Collections Oliver's lap desk and many of his papers from that desk.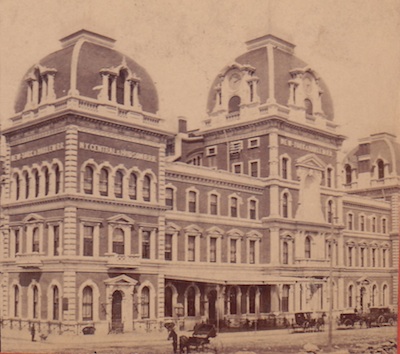 July 18, 1813: John B. Snook; architect of the Grand Central Depot (built 1869-71) – the first great American railroad station; born in London, England; died in 1901. Here's a photograph of the facade of his Grand Central Depot. It was on the north side of 42nd Street, where Grand Central Terminal is now.
July 20, 1823: Barney Williams; Irish-American comedian famous for his character; "Ragged Pat;" born in Cork, Ireland; died in 1876.
July 25, 1822: Schuyler Hamilton; Mexican War hero and Civil War general; grandson of Alexander Hamilton; born in New York City and died there in 1903.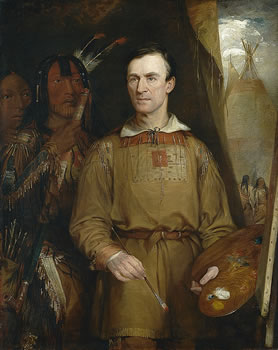 July 26, 1796: George Catlin; painter of American Indians; born in Wilkes-Barre, Pennsylvania; died in Jersey City, New Jersey, 1872. Here's a painting of Catlin, palette in hand.
July 29, 1861: Alice Hathaway Lee Roosevelt; first wife of future President Theodore Roosevelt; born in Chestnut Hill, Massachusetts; died on Valentine's Day, 1884 in New York City.
July 29, 1824: Eastman Johnson; one of the best-known and most fashionable American painters of his time; best-known for his genre paintings, sentimental scenes of everyday life, and his portraits of the prominent men of the time, as well as his depictions of prosperous New York families in domestic scenes; born in Lowell, Maine; died in New York City in 1906. And here's Johnson's painting, "Old Kentucky Home:"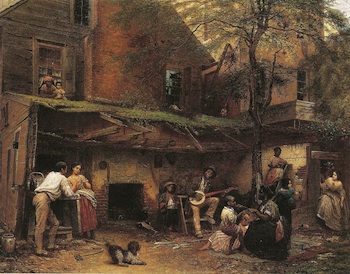 July 29, 1795: Walter Hunt; inventor of the safety pin, the lock-stitched sewing machine, suction shoes to walk on ceilings, and the fountain pen; born in Susanna, New York; died in 1859.
July 31, 1822: Abram Stevens Hewitt; Congressman, Mayor of New York City, and architect of its rapid transit system; born in Haverstraw, New York; died in 1903 in Ringwood, New Jersey.
Thanks to Joshua Salter for his work on this calendar.