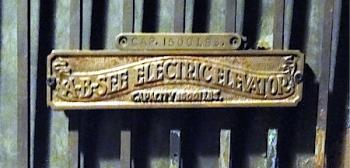 Well, I really had no idea. I was off to see my friend somewhere in Manhattan. Had never visited him at his home before. Checked the address: 33 West 67th Street. Turns out it is The Atelier Building, built 1904-1905 as, according to the AIA Guide to New York City, as one of the first co-op buildings in NYC. Quite a remarkable place. What a building! Twenty-six foot ceilings, thick rock walls to suppress noise, original electric and gas fixtures. Amazing!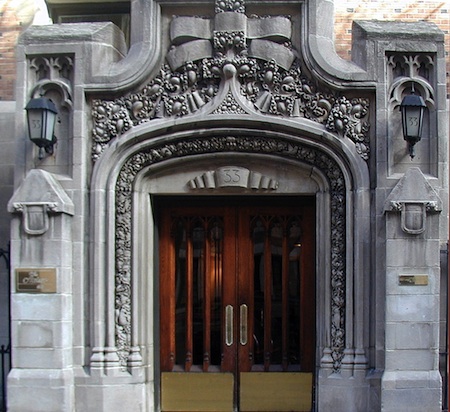 Here's the entrance. So I hit the buzzer and went in. I looked for the list of tenants. No list. You just get in the elevator, tell the attendant whom you are visiting and he takes you up to the appropriate floor. So I got into the elevator, surely original equipment, and there it was: the manufacturer's plaque. An elevator manufactured by A.B. See Electric Elevator Company. Now, you might be surprised, but I did indeed recognize that name. And, as you might have just guessed, yes indeed, Alonzo B. See is interred at Green-Wood Cemetery.
Here's what I wrote about Alonzo B. See (his parents must have figured this one out: A.B. See, get it?) in my book, Brooklyn's Green-Wood Cemetery: New York's Buried Treasure, published in 1998, and now in its second printing, available for purchase here:
HITTING THE CEILING
Though Alonzo B. See (1849-1941) was the moving force behind A.B. See Elevator Company, one of the giants of that industry, few people had every heard of him before 1922. That year, however, he became "suddenly famous" when, in reply to a request from Adelphi College for funds to educate young women, he stated that "all women's colleges should be burned." This pronouncement, which sparked a national controversy, caused many readers, as The New York Times observed, to "hit the ceiling faster than they ever ascended in one of the See elevators." But by 1935, See had seen the light, announcing that he had changed his views and women did indeed deserve an opportunity for higher education.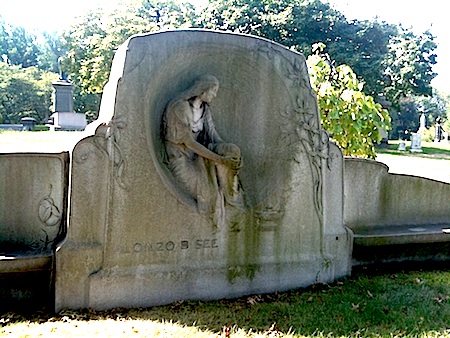 Now take a look at Alonzo B. See's Green-Wood grave. Clearly, he realized that he owed women a great deal and chose a female figure to adorn his final resting place.
Thanks to Chester Burger, a great photographer, a dedicated patriot, and an even better person, for the two photographs above.