Green-Wood is proud to partner with MAPP International Productions, a nonprofit producer of major performing arts projects that raise critical consciousness and spark social change.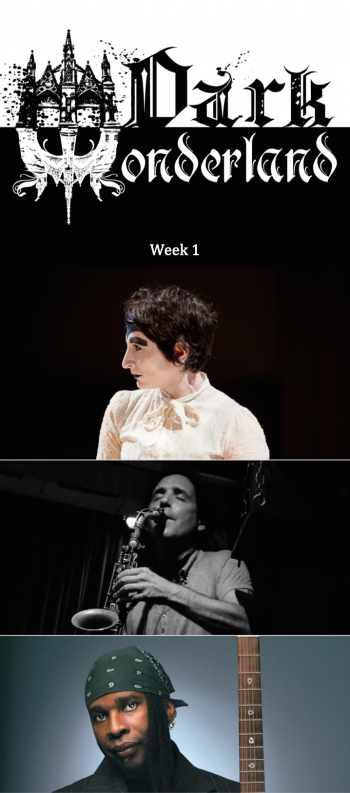 WEEK 1: JUNE 4, 5 & 6 (tickets here and curatorial statement here)
– A solo performance on the ghosts of things unseen, unheard or untended in family mythology and queer/feminist history by performance artist/actor Sacha Yanow as "the Little Vamp."
– Songs of bottomless love and loss by Vanitas, featuring alto-saxophonist/composer Andrew D'Angelo and keyboardist Pete Rende.
– A solo guitar requiem for Eric Garner by fellow Staten Island resident and two-time Grammy Award-winning guitarist/activist Vernon Reid, founder of the critically acclaimed band, Living Colour.
ARTIST PRESS
"(Sacha Yanow offers) a fortified example of how much can be achieved onstage with a single body, a spotlight, and audio. Immediately engaging…" – Velvet Park
"Curious and thrill-seeking… (Andrew D'Angelo is) fully informed by New York's hard-boiled vanguard of the 1970s and '80s." – The New York Times
"(Vernon Reid is) one of the living legends of the electric guitar." – WNYC Radio | "Few guitarists are as endlessly creative." – IHeartGuitarBlog
WEEK 2: JUNE 11, 12 & 13 (tickets here and curatorial statement here)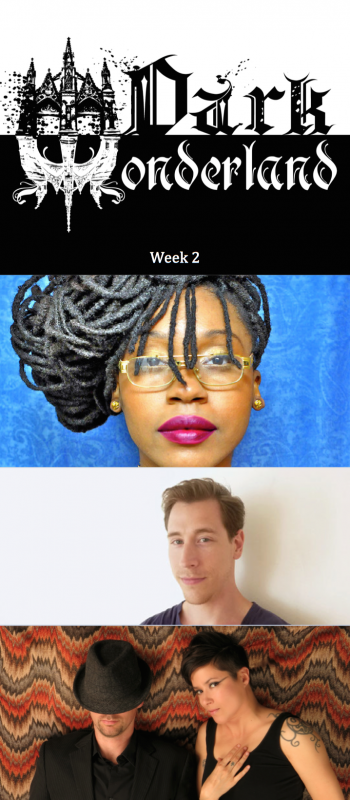 – Poet/performance art therapist Queen GodIs offers the coming-of-age story of an MC who examines her origins and re-imagines what she is made of through a multi-media montage of movement, poetry, sound … and light.
– Performance and installation artist Arturo Vidich has constructed hypnotic sound and light machines that evoke an electro-acoustic seascape of resplendent noise and dancing shadows. The work addresses illusions of duality between the expressed and unexpressed, with the body as the dividing line.
– Electronic pop band SLV, co-founded by multi-instrumentalists Sandra Lilia Velasquez and Sean Dixon, performs songs of courage, change and possibility. The group's debut release, Dig Deeper, was produced by ten-time Grammy nominee Meshell Ndegeocello.
ARTIST PRESS
"A phenomenal inspiration. Queen GodIs is what she speaks and delivers…" – Femmixx.com | "Incredible… extremely powerful, deep and emotive." – UrbanLife.se
"Fierce, physical, and smart, Arturo Vidich has a dream-like imagination, a lack of inhibition, and an ability to catch audiences off guard." – New Yorker | "A singularly captivating dancer…" – New York Times | "(A) consummate improviser." – Dance Magazine
"SLV transported the audience to a different time and place… her energy blanketed the audience… (with) absolute authenticity." – FeastOfMusic.com
WEEK 3: JUNE 18, 19 & 20 (tickets here and curatorial statement here)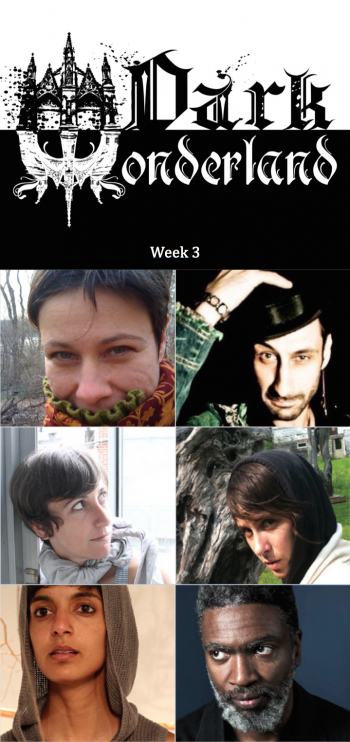 – Choreographer/performer/improviser Jill Sigman, together with DJ Joro Boro, offers a movement ritual for the Dark City that explores how the "light" or "surface" city, filled with corporatization, militarization and gentrification, feels darker than its supposed underbelly.
– Choreographer/director/performer Vanessa Anspaugh and dancer/choreographer devynn Emory apply the "cut-up" approach from literature to dance, with the wrecking and remaking of work by to affirm a "queer kinship" that reimagines our relationship to one another.
– Composer/vocal artist Samita Sinha and cornetist/trumpeter/composer Graham Haynes conduct a sonic exploration of the world inside a single tone, and the themes that emerge from our tonal collisions.
ARTIST PRESS
"Jill Sigman is riveting – an elf with the rebelliousness of the '60s avant-garde, the piscine fluidity of a Tharp dancer, and the charisma and athleticism of today's virtuosos…" – The Village Voice
"Vanessa Anspaugh has been known both to surrender to cliché and intelligently to subvert it, as she ensnares her performers in terrifically ambiguous scenarios. She can throw a lot at you at once, or quietly attend to a single, enduring image." – The New York Times
"(Samita Sinha is) beguiling." – The New York Times | "Mesmerizing." – Time Out | "Brilliant." – Times of India | "Remarkable" – The New Yorker | "(Graham Haynes is) musically captivating (and) creatively daring." – L.A. Times | "One of the most cutting-edge musicians on the scene." – JazzTimes
WEEK 4: JUNE 25, 26 & 27 (tickets here and curatorial statement here)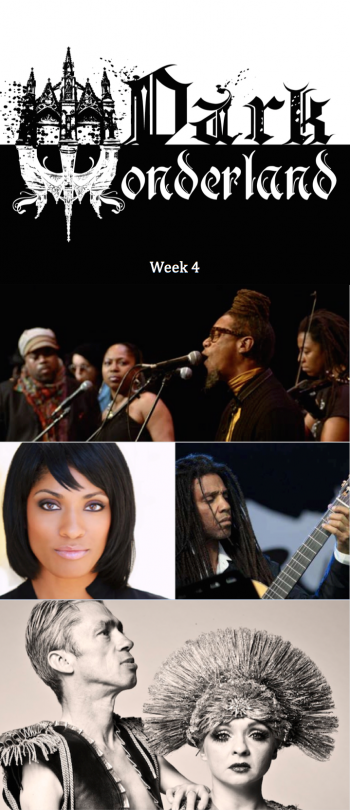 – The improvisational big band Burnt Sugar: The Arkestra Chamber, led by guitarist/cultural critic Greg Tate with monster groove bassist Jared Michael Nickerson, performs excerpts from Brer Rabbit The Opera: A Funky Meditation On Gentrification, that relocates the Briar Patch to Gotham's ever-changing shores.
– Mezzo-soprano and Porgy and Bess star Alicia Hall Moran with guitarist Brandon Ross, perform a haunting vignette on un-channeled wants and unfinished business.
– The 2015 King and Queen of Coney Island's Mermaid Parade, actor Mat Fraser and performance artist/dancer/burlesque star Julie Atlas Muz, offer a special performance that demonstrates their creed as radical artists seeking alternative ways to be inside: "We are outsiders, with inclusivity at the heart of what we do. We accept you, one of us."
ARTIST PRESS
"(Burnt Sugar is) a mul­tira­cial jam army that freestyles with cool telekine­sis between the lustrous men­ace of Miles Davis' On The Cor­ner, the slash-and-om of 1970s King Crim­son, and Jimi Hen­drix' moon­walk across side three of Elec­tric Lady­land."- Rolling Stone
"Alicia Hall Moran is stunning in the part. She has the soaring operatic chops the lush music requires, coupled with jazz instincts… Her solo verse of "Bess, You Is My Woman Now" is the most thrilling moment in the show." – The Dallas Morning News | "The remarkably creative guitar hero Brandon Ross combines linear facility and originality with sheer decibels, cathartic abandon and liquid whammy-bar articulations." – JazzTimes
"Grown-ups of New York, are you ready to be told the best bedtime story you've heard? Honest, you've never met a "Beauty and Beast" like (Mat Fraser and Julie Atlas Muz)… What a privilege to be a part of this theatrical sorcery. Your heart is on the stage — if it weren't already. It's a leap that feels an awful lot like falling in love." – The New York Times