1 p.m. An Afternoon with Best-Selling Author Paul Auster
November 19, 2011, 1:00pm

–

3:00pm
Saturday, November 19, 2011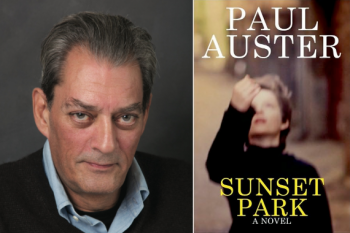 In a Travel + Leisure interview last year, Paul Auster said, "A couple of years ago I was thinking of setting a new novel in Sunset Park, Brooklyn, and in walking around the neighborhood, I visited Green-Wood Cemetery for the first time. In fact, maybe it was the cemetery that convinced me to write the novel . . . I had no idea [Green-Wood was] . . . one of the most remarkable places in all of New York City."
We are thrilled to host Auster's first official appearance at Green-Wood for a book talk about his latest novel, Sunset Park. This passionate novel about contemporary America and its ghosts follows the hopes and fears of a cast of unforgettable characters brought together during the 2008 economic collapse, including a group of young people squatting in a Sunset Park apartment.
Please Note: Mr. Auster will be introduced by Green-Wood's historian, Jeff Richman, who will give a prologue to Green-Wood and its history of inspiring writers, artists, and musicians for close to two centuries. Mr. Auster will then read from his book, Sunset Park. He has asked to have extended time afterwards to sign books and chat individually with the attendees. In light of his request, we will forego the trolley tour in order to maximize our time with Mr. Auster. Afterwards, of course, you are welcome to stroll and experience Green-Wood on your own, as Mr. Auster did when he was writing Sunset Park. We will have complimentary walking tour books and illustrated maps on hand.
Book Talk, Q&A with the author: $15 for members of The Green-Wood Historic Fund / $20 for non-members.
To purchase tickets, call 718-210-3080 or order online using the Ticket Information box below. Select your date, ticket quantity, and click to Order Now or Enter Discount Code (Member (ID#) and you will be redirected to our Eventbrite ordering page.
If you are using a credit card linked to a non-U.S. address, or if you've typed in a billing address that does not match that of your credit card, you may see an error message when ordering. If so, please call us at 718-210-3080 from Mon-Fri 8am-4pm Eastern Standard Time or email us at info@greenwoodcemetery.org and we will help you complete your order. Thank you.
Not a Member?
Get a free ticket with a membership at left and purchase additional Member Discount Tickets if desired. Click here for all of our membership levels and information.
Already a Member?
Click the "Enter promotional code here (members, use your ID#)" link in the bottom right corner of the ticket box and enter your ID number to apply your ticket discount. Please note that the Senior, Individual and Student membership levels are limited to only one Member Ticket per event (for additional tickets, please purchase at the regular price).
Questions?
Don't know your Member ID number? Not sure which ticket or membership type to order? Call 718-210-3080 or email contactus@green-wood.com with any questions.