Presented by Naming the Lost Memorials and The Green-Wood Cemetery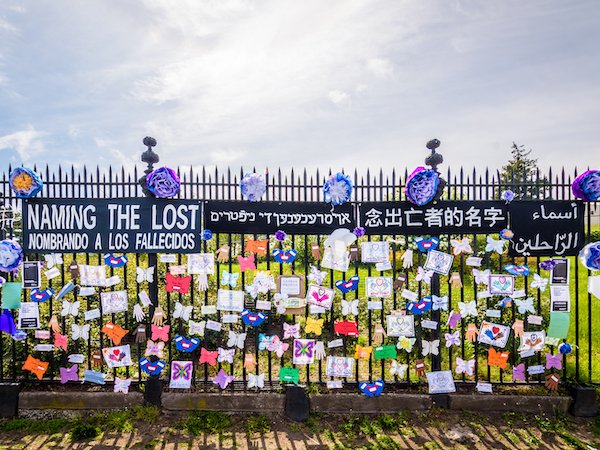 Since May 2020, Naming the Lost Memorials, a small team of volunteer artists, activists, and folklorists, has been curating memorial sites in New York City to name and remember victims of the COVID-19 pandemic. The memorials consist of tens of thousands of nameplates with personalized drawings and photos, created by the families and friends of those who have lost loved ones to the virus. For WE REMEMBER: A COMMUNITY COVID MEMORIAL, over twenty community-based organizations have come together to contribute names and to create nameplates. Collectively, the nameplates create a visual and personal representation of the overwhelming enormity of the loss. They also give us a communal place to remember and to grieve together.
WE REMEMBER: A COMMUNITY COVID MEMORIAL will be displayed, outwardly, along the Green-Wood's historic wrought-iron fence along Fifth Avenue in Brooklyn. Packed tightly from top to bottom on the fence, it will stretch horizontally for 200 feet. The memorial will be on view from June 8–28, 2021 to honor the nearly 600,000 people in the United States, including more than 52,000 here in New York City, who have died during the COVID-19 pandemic. During this time, the public is encouraged to create and add their own nameplates to the memorial.
DEDICATION CEREMONY
Tuesday, June 8th (June 9th, rain date)
6–9pm
We ask the public to join us for the dedication of the memorial by artists, religious leaders, and performers. Everyone is encouraged to participate through song, movement, invocation, prayer, and a candle lighting ritual accompanied by an onsite naming of the lost.
Community Partners:
Academy of Medical and Public Health Services
Bangladesh Institute of Performing Arts
Bronx Documentary Center
Brooklyn Roots
Building Stories, LLC
Caring Majority
Center for Family Life
Guyana Cultural Association of New York
Fort Tryon Jewish Center
Flushing Town Hall
Hebrew Tabernacle 
Inside Change Arts: Bowery Resident and Street Artists
Inside Change Arts: The 5th Grade Formulators of the Bedford Village School 
JouvayFest Collective
Makandal: Bridging the Past and the Future of Traditional Haitian Arts 
Teachers & Writers Collaborative
Mazarte Dance Company Inc.
Mano a Mano: Mexican Culture Without Borders
Missing Them, a COVID-19 memorial with THE CITY newsroom
Mixteca
Worker's Justice Project
We thank these funders for their generous support:
The Green-Wood Cemetery
CATCH (Center for Art, Tradition, and Cultural Heritage)
City Lore
Circus Amok
Great Small Works
Folk and Traditional Arts program of the National Endowment for the Arts
NYC Department of Cultural Affairs.
To see more memorials created by Naming the Lost Memorials and learn more about memorial traditions, click here.