The Remains of Winter
Athena LaTocha
On Long-term view
ON Battle Hill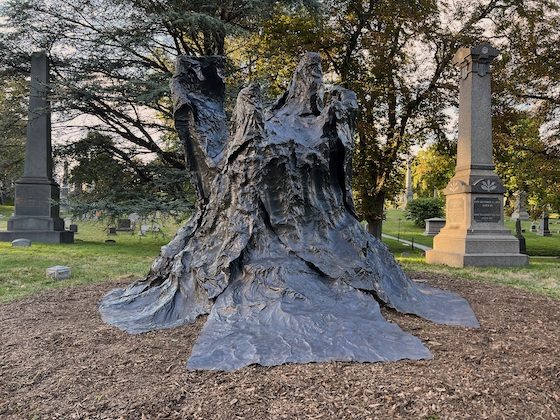 Athena LaTocha creates large-scale works inspired by her close observations of the natural world, from the deserts and mountains of the Southwest to the Great Plains. She often incorporates elements of these environments, including soil, sand, bark, and rocks. Recently, she has been particularly drawn to trees, considering them as record keepers that bear the markings of time.
Inspired by Green-Wood's centuries-old trees and its legacy as a place of remembrance, LaTocha has created The Remains of Winter. She cloaked the remains of two massive European beeches on Battle Hill in thin sheets of lead, a material that has been used for centuries in coffins to slow the decomposition of the body. By hand-forming this malleable metal onto the trees, LaTocha captures the unique details of their shapes and forms, even as they slowly degrade beneath the lead.
All around these sculptures, the Cemetery is in a continuous cycle of transformation. Felled trees are turned into mulch for new plantings, earth is removed then replaced for each new burial, and even the stone monuments themselves slowly erode. Through The Remains of Winter, LaTocha memorializes these shifts and changes while also raising profound questions about what we choose to commemorate and mourn—whether it is what we can witness before us or that which, like the movement of continents and land masses, unfolds over lifetimes.
Athena LaTocha creates massive works that explore the relationship between human-made and natural worlds. She was inspired by her upbringing in the wilderness of Alaska and the Earthwork artists of the 1960s and 70s. LaTocha has exhibited across the country, most recently at BRIC House; The Visual Arts Center of New Jersey; MoMA PS1; JDJ at The Ice House in Garrison, New York; and the IAIA Museum of Contemporary Native Arts in Santa Fe, New Mexico. LaTocha is the recipient of the Eiteljorg Fellowship, the NYSCA/NYFA Artist Fellowship in Painting, and grants from the Joan Mitchell Foundation and the Robert Rauschenberg Foundation.

The Remains of Winter is curated by Harry Weil, Green-Wood's Vice President of Education and Public Programs, and made possible by a grant from The National Endowment for the Arts.
For information about other arts programming at Green-Wood, click here.