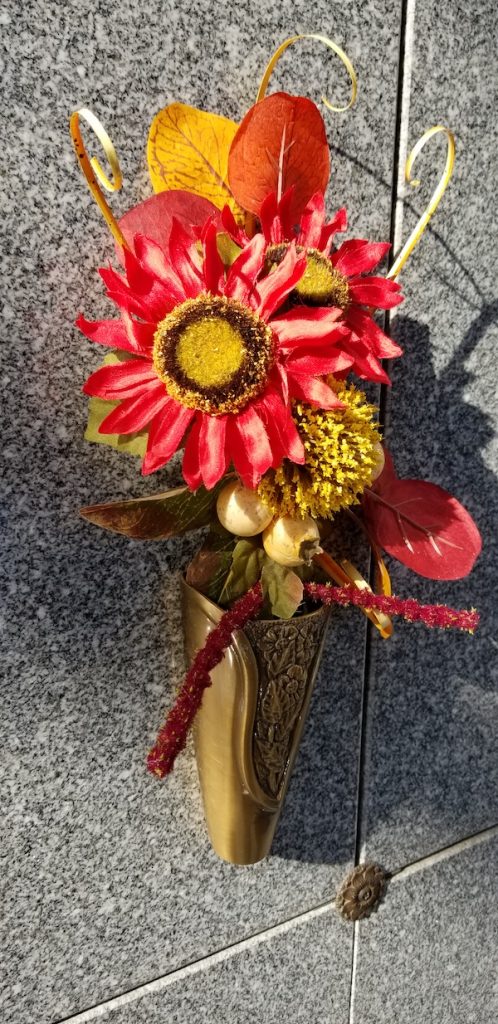 Forever Flowers
Available in all Community Mausoleums
In community mausoleums, Green-Wood is proud to offer the opportunity to embellish a family crypt with seasonal lifelike floral arrangements (see this brochure for details) designed specifically for the crypt-front vases located in Hillside, Crestview, Locust Grove, Garden, and Indoor Mausoleums. For more information, please call 718-210-3066.
Lights of Remembrance/Perpetual Lights
Available in our Hillside IV mausoleum
The crypts in Hillside IV Mausoleum include a permanently installed light/vase unit on the face of each crypt. Lights are activated by the Cemetery for a period of one year commencing with the first entombment. Activation for longer periods may be arranged for through our subscription program. For more information, please call 718-210-3066.
Evergreen Arrangements
Available for all graves and lots, every December
Green-Wood offers the opportunity place special arrangements of evergreens to celebrate and honor your loved ones during the holiday season, inspired by the Victorian Era Christmas tradition of laying evergreen wreaths on gravesites. For more information, click here or call 718-768-7300.
ADOPT A TREE
Available throughout Green-Wood
Trees across Green-Wood's 478 acres may be "adopted" in honor of a loved one for a tax-deductible contribution to The Green-Wood Historic Fund. A plaque bearing the name of the person you are honoring or memorializing—as well as information about the tree—will be placed at the tree for a period of one, five, or ten years. Click here for more information.