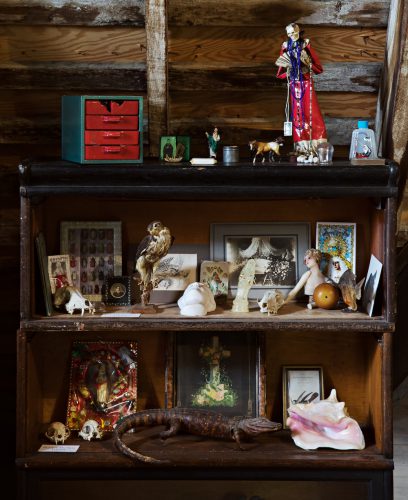 Morbid Anatomy, beloved purveyor of the arcane, whose most recent incarnation was the quirky Brooklyn-based museum that was shuttered in early 2017, has taken up temporary residence at Green-Wood in 2018. In fall, the historic Fort Hamilton Gatehouse will house the exhibition, "Bridging Worlds" and offer its picturesque attic space to Morbid Anatomy's extensive library and collection of ephemera. Reprising its wildly popular public program series, the Morbid Anatomy team has curated the exhibition "Bridging Two Worlds," plus a series of conversations, lectures, and events focused on the intersections of art and medicine, death and culture.
Bridging Two Worlds
The Land of the Living and the Land of the Dead
September 22 – December 2, 2018
How do the dead find their way to the next life? Who directs them on their journey? And when they arrive, can they establish a connection to those left behind? Across time, and around the globe, people have imagined that the dead might live on in another, imperceptible world. The worlds of the living and of the dead, however distinct and distant they may be, could theoretically be bridged, through individuals such as psychopomps (from Greek, meaning a "guide of souls")  like Anubis, Azrael, or Hermes, or by performing rituals such as ancestor worship, sacrificial offerings, or prayer. In Buddhist and Taoist traditions, for example, Yu Lan (the "Hungry Ghost Festival") is a celebratory homecoming for the souls of the departed. Families honor the dead through specially prepared meals and by burning paper replicas of money, cellphones, clothing, and other material possessions for their ancestors to enjoy in the afterlife.

Through artifacts, artworks, and ephemera, this exhibition explores how humans have endeavored to imagine a separate world for the dead and to express their own desires for bridging the divide. Objects on view were drawn from collectors in the greater Morbid Anatomy community and The Green-Wood Historic Fund Collections.
"Bridging Two Worlds" and the Morbid Anatomy Library are free and open to the public at the Fort Hamilton Gatehouse on Saturdays and Sundays, 12 –5 PM, from September 22–December 1. To visit outside of these hours, email events@green-wood.com.
The Gatehouse is located at Fort Hamilton Parkway and Micieli Place, easily accessible on the F and G trains at Fort Hamilton Station. The exhibition and library space are not handicap accessible.
Opening Party
Friday, September 21, 6:30 – 8:30 PM
Enjoy a special preview celebration of "Bridging Two Worlds" with the exhibition curators, participating artists, and collectors. Refreshments will be served.
$5 for members of Green-Wood and BHS / $10 for non-members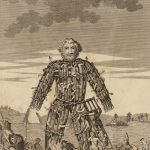 The Wicker Man: Ancient Origins and Modern Revival
Thursday, September 27, 7 – 8:30 PM
Each year in the Black Rock Desert of Nevada, a towering figure made of wicker known as "The Man" is ceremoniously set ablaze at the culmination of Burning Man, the iconoclastic festival of community and art. The Wicker Man, however, dates back to the ancient Celtic world, when the Druids burned these giant figures in effigy, purportedly sometimes containing human sacrifices. This lecture, led by former lawyer turned religious studies scholar Amy Slonaker, explores the history and modern revival of the Wicker Man in neo-pagan rites and pop culture events and where legend and fact diverge.
$10 for members of Green-Wood and BHS / $15 for non-members
Making an Exit: From the Magnificent to the Macabre
Friday, November 2, 7 – 8:30 PM
Author and journalist Sarah Murray never gave much thought to what might happen to her remains – until her father died. While he'd always insisted his "organic matter" would have no significance, he surprised the family by leaving detailed arrangements for the disposal of his ashes. His last request prompted Sarah to explore how – across centuries and cultures – humans have built memorials to their lives. Sarah will share stories, photos, and insights from her book Making an Exit: From the Magnificent to the Macabre – How We Dignify the Dead, which documents her journeys across the world on a very personal quest: seeking inspiration for her own eventual send-off.
"A fascinating travelogue, but also a personal meditation on loss and fate. Ms. Murray excels in the role of intrepid tour guide." – The Economist
$10 for members of Green-Wood and BHS / $15 for non-members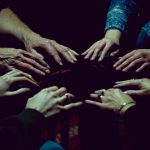 Altered States: Mediums, Mambos, and Michael Jackson
Thursday, November 8, 6:30 – 8 PM
In this illustrated presentation, award-winning photographer and author Shannon Taggart will share original photographs from her 17 year-long exploration of séances and the endeavor to blur the lines between life and death. She will discuss the curious ways that Spiritualist mediums, Vodou practitioners, and also the "King of Pop" Michael Jackson have used altered states of consciousness in their quests to access invisible realms. Her photographs have been exhibited and featured internationally in TIME, New York Times Magazine, Discover, and Newsweek. Taggart's book, SÉANCE: Spiritualist Ritual and the Search for Ectoplasm, will be released in 2019.
$10 for members of Green-Wood and BHS / $15 for non-members