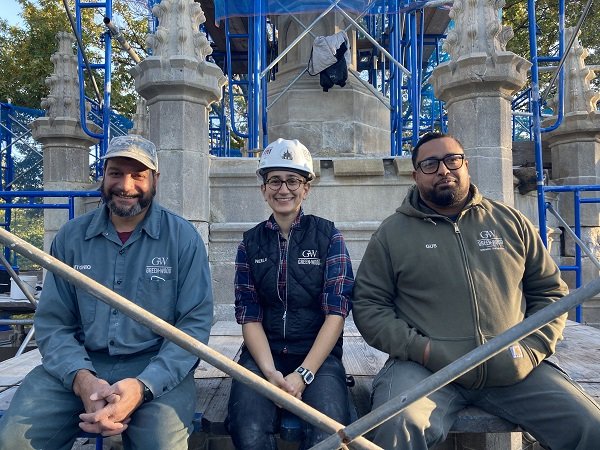 This month we celebrate our shared heritage through the historic structures around us and the stories they tell. It's a chance to turn our attention to preserving places of the past so that we can continue to learn from them in the future!
We here at Green-Wood have always had a rich history of preserving and restoring monuments on our grounds.
As the Director of the Restoration and Preservation department, my crew and I are dedicated to upholding the tenants of responsible restoration practices that are based on documentation, reversibility, and craft.
Documentation is the most important part of any preservation endeavor. How can we know where we are going, if we do not document where we have been? How can we reveal an amazing "after" without all the specifications of the "before"? The documentation process can take the form of extensive photographs, notes, scale drawings, or digital annotations—most likely it includes all three.
Reversibility speaks to the ever-changing practices of conservation science. When possible we should be able to undo repairs and restoration decisions in the future if a better or more accurate repair methodology becomes available. Since so much time is spent undoing poor past restoration attempts, reversibility is key to ensuring the best possible repair practices.
Craft describes the time and skill that is taken and employed to carry out successful and artful restoration repairs and conservation treatments. It is our hope as a department that our work is as invisible as possible, that our repairs blend into our historic landscape and they do not detract to the original design intent of their designers.
So, during this month of preservation appreciation, take time to look at your surroundings and notice the beauty and splendor of historic architecture that is all around us. To me every month is historic preservation month!
Neela K. Wickremesinghe
The Robert A. and Elizabeth Rohn Jeffe Director of Restoration and Preservation