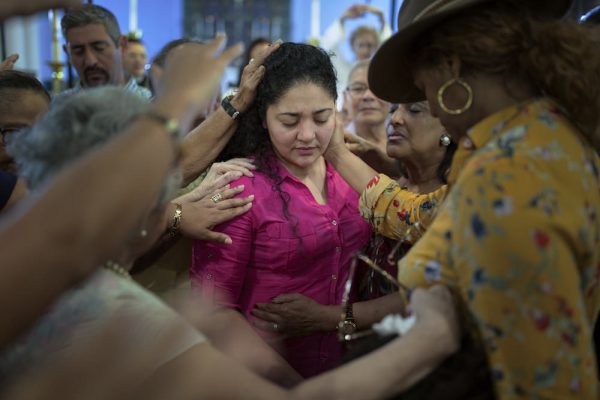 Cinthya Santos Briones
February 6 – April 7, 2019
Installed on Green-Wood's border fence on 4th Avenue between 34th and 36th Streets.
For two years, Brooklyn-based photojournalist Cinthya Santos Briones has photographed undocumented migrants who face orders of deportation. By taking up asylum in houses of worship, often for indefinite periods of time, these individuals and their families have found both a refuge and a provisional prison. Santos Briones' photographs are an intimate depiction of living in a state of uncertainty. Rather than present portraits of people in hopeless situations, she has chosen to convey the universal routines of their everyday lives. Birthdays are celebrated, siblings tease one another, and meals are shared.
Cinthya Santos Briones is a Mexican-born documentary photographer and photojournalist. She is a recent graduate of the Visual Journalism and Documentary Practice Program at the International Center of Photography in New York City, and has received grants from the Magnum Foundation, National Geographic, and En Foco. Cinthya has published her work in New York Times, Pdn, La Jornada, Vogue, Open Society Foundations, Buzzfeed, The Nation Magazine, California Sunday Magazine, Cuartoscuro, among others.
Together, The Green-Wood Cemetery and BRIC, the leading presenter of free cultural programming in Brooklyn, are proud to present Santos Briones' installation. Green-Wood has been a part of the Sunset Park community for 181 years and is the "permanent residence" for generations of immigrant New Yorkers. Through cultural programming and exhibitions like Living Inside Sanctuary, it seeks to engage its neighbors in important and timely conversations about how lives are lived.
This installation is presented as part of the BRIC Biennial: Volume III, South Brooklyn Edition. This third iteration of the BRIC Biennial presents artists living and working in South Brooklyn, including the neighborhoods of Park Slope, Gowanus, Sunset Park, and Bay Ridge, highlighting the significance of Brooklyn as a place where artists create work and develop their careers. For more information, visit www.bricmediaarts.org.
Living Inside Sanctuary is curated by Harry J. Weil, Green-Wood's Director of Public Programs and Special Projects.
✱✱✱
Living Inside Sanctuary
Artist Talk
Wednesday, February 20, 6:30-8pm
Documentary photographer Cinthya Santos Briones will discuss her current project Living Inside Sanctuary. She will be joined in conversation with Sara Gonzalo, Supervising Coordinator of the New Sanctuary Coalition of New York City, and Vanesa Suarez, a community organizer with Unidad Latina en Acción in Connecticut.
Translation will be provided in Spanish and English.
Free to attend, RSVP required. Please register using the Eventbrite box below.
This program takes place in our Modern Chapel just to the right after passing through the Gothic Arches at the main entrance. All events will take place rain or shine. Click here for our inclement weather policy.