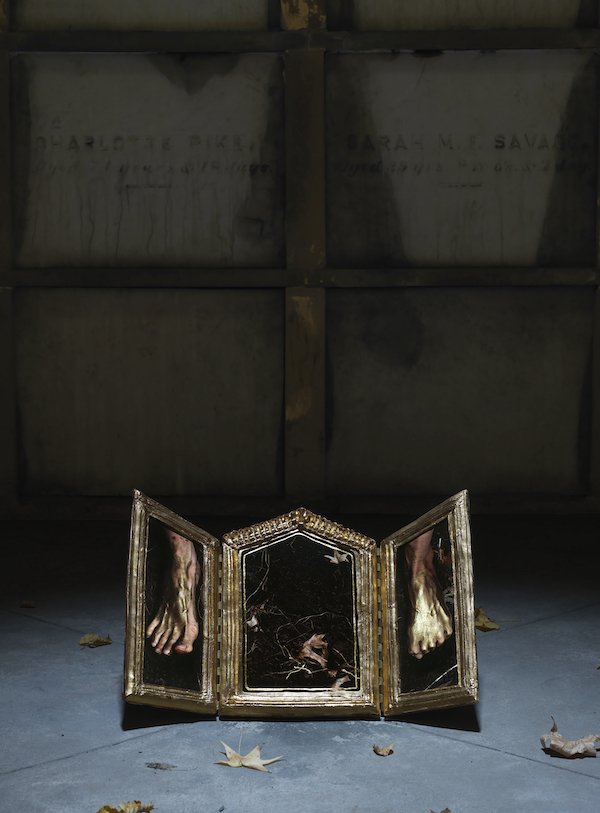 I am fertile ground
JANINE ANTONI
SEPTEMBER 21–DECEMBER 1, 2019
Janine Antoni's exhibition, I am fertile ground, was installed in the Catacombs, one of the Cemetery's oldest structures, and enabled visitors to engage with a space that is rarely open to the public. The artwork in the exhibition was inspired by the power of physical gestures to communicate. We engage in body language all the time, sometimes unknowingly, and sometimes purposefully. Antoni believes that such motions comprise a kind of library of wisdom that the body can intuitively access. Some bodily movements in her physical language are recognizable spiritual gestures, like hands clasped in prayer, while others come from instinctive bodily expression. Using the bones that correspond with each captured image, Antoni sculpts elaborate, gilded frames. Each frame accentuates a gesture, forming artworks that reference religious icons.
To discover more about I am fertile ground, visit the website specially created by the artist to archive the exhibition.
I am fertile ground was curated by Harry Weil, Green-Wood's Director of Public Programs, and funded in part by the National Endowment for the Arts
The exhibit was featured in The New York Times, Hyperallergic, and The Brooklyn Rail, among other outlets.
Image: 
Janine Antoni
I am fertile ground, 2019
Mixed media gilded with 24 karat gold leaf
Installation view of I am fertile ground in the Catacombs at The Green-Wood Cemetery, Brooklyn, NY (September–November 2019)
© Janine Antoni; Courtesy of the artist, Luhring Augustine, New York, and Anthony Meier Fine Arts, San Francisco
Photo: Christopher Burke