Winter Wanders
January 17, 2021
,
1:00pm
–
2:30pm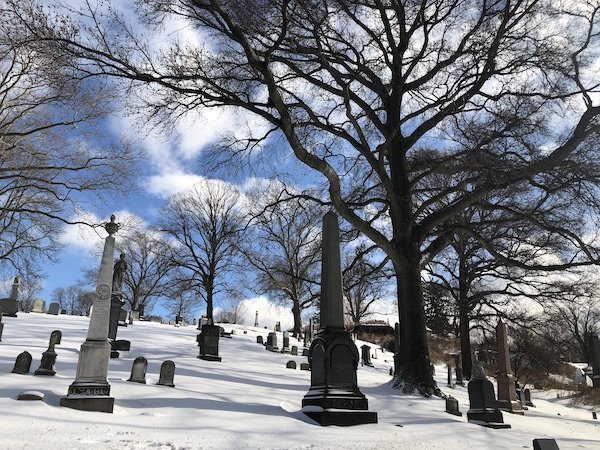 It may be cold outside, but don't let that stop you from discovering Green-Wood!
On this leisurely ninety-minute walking tour you'll take in spectacular views of the Manhattan skyline from Battle Hill; visit Fannie the dog, the beloved companion of Elias Howe's family; and hear the tragic tale of Victorian debutante Charlotte Canda. Along the way you'll explore Green-Wood's historic landscape and learn about the seemingly cryptic iconography found throughout the Cemetery.
Meet at the Main Entrance Gate by Fifth Avenue and 25th Street.
$25 / $20 for members. There are no paper or e-tickets. Attendees will be checked in by name.
Please note: All walking tours traverse hilly and at times uneven terrain. Comfortable footwear is suggested. Click here for our inclement weather policy.
Mandatory Safety Protocols
– Attendees must wear a face covering at all times and maintain at least a 6-foot distance from those not in their group.
– The tour guide will be using a voice amplifier to ensure all social distancing protocols are adhered to.
– Follow ALL instructions and guidance from Cemetery staff and ambassadors.
– Travel Safely: Green-Wood recommends following all safety precautions while traveling to and from the Cemetery, whether by foot, mass transit, or driving. If taking mass transit, please check the MTA's guidelines.
– Feeling Sick? Stay home if you are feeling sick or running a temperature. Please use good judgement if you have recently been exposed to someone with COVID-19. For more information about COVID-19, please check the CDC website.
Green-Wood reserves the right to deny entry to any visitor who refuses to comply with the safety guidelines.