Violet Oakley: Pioneering LGBTQ+ Artist
October 19, 2021
,
6:00pm
–
7:00pm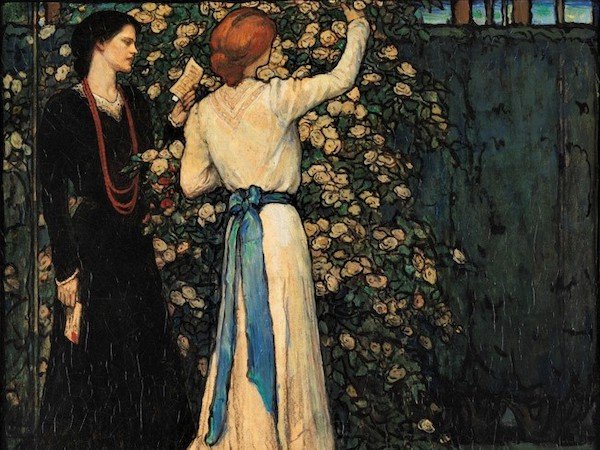 Violet Oakley (1874-1961) was more than a designer, illustrator, and muralist—she was a pioneering American artist. As a leading figure of the American Renaissance, she advocated for equal rights for all races and sexes, and worked for world peace. In 1902, Oakley became the first woman to be awarded a major commission for murals inside the Pennsylvania State capitol. Alongside  two of her classmates, she formed the "Red Rose Girls," a group of women artists who lived together while they each became successful in the art world. Today, she is regarded as an early member of the LGBTQ+ community, having lived with her partner Edith Emerson for over 45 years. Join Bailey Van Hook, professor emerita of art history at Virginia Tech, for a lively conversation with Green-Wood's historian, Jeff Richman, about Violet Oakley's life and groundbreaking work as she strived in a male dominated field.
$9 / $4 for members. A Zoom link and recipe will be emailed the day before the program.
This conversation is part of our series of virtual programs about the history of Green-Wood and its permanent residents, Zooming in on History.
Not a Member?
Click here for all of our membership levels and information.
Already a Member?
Click the gray tickets button to activate the Eventbrite pop-up, then click Enter promo code. Type in your ID number to access your discounted tickets.
Questions?
Don't know your Member ID number? Not sure which ticket or membership type to order? Call 718-210-3080 or email contactus@green-wood.com with any questions.