Violet Oakley: Painting the Way
November 10, 2021
,
6:00pm
–
7:00pm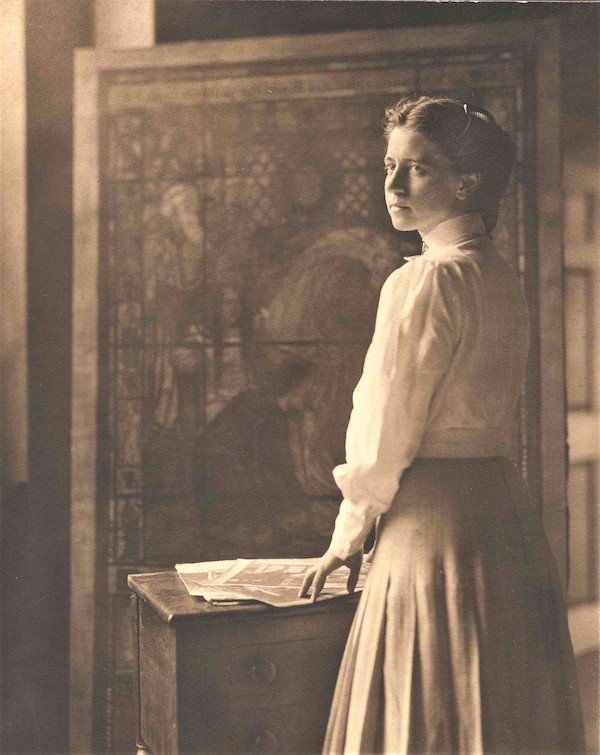 With over 575,000 permanent residents, there's no shortage of incredible stories at Green-Wood—and Violet Oakley's does not disappoint! Defying all societal expectations in the early twentieth century, Oakley became the first American woman to land a public mural commission—for the Pennsylvania State capitol—at only 28 years old, which was unheard of in a male dominated field. Oakley was one of the "Red Rose Girls," a trio of artists who lived and worked together in a communal art gallery—something that pushed against the gender roles of their time. Today, she is regarded as an early member of the LGBTQ+ community, having lived with her partner Edith Emerson for over 45 years. We'll be joined virtually by Dr. Bailey Van Hook, Violet Oakley expert and professor emerita of art history at Virginia Tech, for a lively discussion with Green-Wood Historian Jeff Richman about the artist's fascinating life.
Over the course of Dr. Van Hook's career as a writer, professor, and historian, she has shed light on women as both creators and subjects in American art. She is the author of Violet Oakley: An Artist's Life, the first biography of the groundbreaking artist and the result of 15 years of research and extensive travels in pursuits to capture the full story of Oakley.
Jeffrey I. Richman has been Green-Wood's historian for over two decades, having led tours for nearly a decade prior. He is the ultimate expert of all things Green-Wood.
$9 / $4 for members. A Zoom link will be in your confirmation email upon registration.
This conversation is part of our series of virtual programs about the history of Green-Wood and its permanent residents, Zooming in on History.
Not a Member?
Click here for all of our membership levels and information.
Already a Member?
Click the gray tickets button to activate the Eventbrite pop-up, then click Enter promo code. Type in your ID number to access your discounted tickets.
Questions?
Don't know your Member ID number? Not sure which ticket or membership type to order? Call 718-210-3080 or email contactus@green-wood.com with any questions.