1 p.m. Uncovering Long-Lost Stories: Digging Dirt at Green-Wood with Ben Feldman
January 14, 2012, 1:00pm

–

3:00pm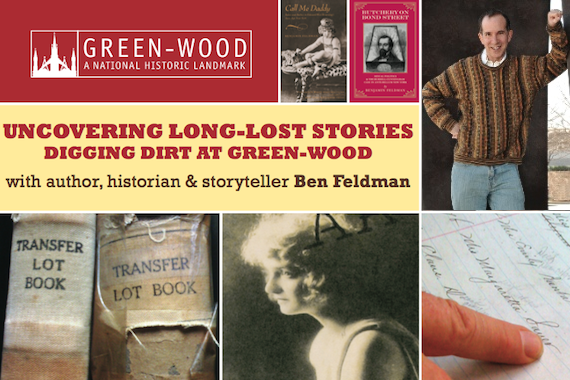 Author, historian and storyteller Ben Feldman has been in love with New York City history for as long as he can remember. Utilizing Green-Wood's historical resources, he has discovered long-forgotten characters whose colorful stories he delights in telling. Like the story of preeminent Dr. Harvey Burdell, who was gruesomely murdered by his lover in 1857, or the lurid story of Roaring Twenties playboy Edward Browning and his underage mistress Frances "Peaches" Heenan.
Now comes the mysterious rags-to-riches story of Brooklyn industrialist Henry Knight Dyer whose pocket-size diary dated 1870, discovered by Feldman, was the irresistible catalyst for his latest investigation.
For anyone who's mesmerized by personal histories and their little-known details, come learn how Feldman uncovers long-lost stories and how you can too.
This event has two parts, with separate tickets for each part:
A free talk by Ben Feldman in the historic Green-Wood chapel.
A trolley tour immediately following the talk that will visit the gravesites of Burdell, Browning, Dyer and many more. Tickets are $15 for members of the Green-Wood Historic Fund and $20 for non-members.
Seating is limited for both the talk and the trolley tour, and reservations are recommended.
To purchase tickets, call 718-210-3080 or order online using the Ticket Information box below — click to Order Now or Enter Promotional Code (Member ID#) and you will be redirected to our Eventbrite ordering page. Please be sure to include both the free talk tickets and the trolley tour tickets in your order if you would like to attend both parts of the event.
If you are using a credit card linked to a non-U.S. address, or if you've typed in a billing address that does not match that of your credit card, you may see an error message when ordering. If so, please call us at 718-210-3080 from Mon-Fri 8am-4pm Eastern Standard Time or email us at info@greenwoodcemetery.org and we will help you complete your order. Thank you.
Not a Member?
Get a free ticket with a membership at left and purchase additional Member Discount Tickets if desired. Click here for all of our membership levels and information.
Already a Member?
Click the "Enter promotional code here (members, use your ID#)" link in the bottom right corner of the ticket box and enter your ID number to apply your ticket discount. Please note that the Senior, Individual and Student membership levels are limited to only one Member Ticket per event (for additional tickets, please purchase at the regular price).
Questions?
Don't know your Member ID number? Not sure which ticket or membership type to order? Call 718-210-3080 or email contactus@green-wood.com with any questions.