Through the Eyes of Currier & Ives
January 19th
,
6:00pm
–
7:00pm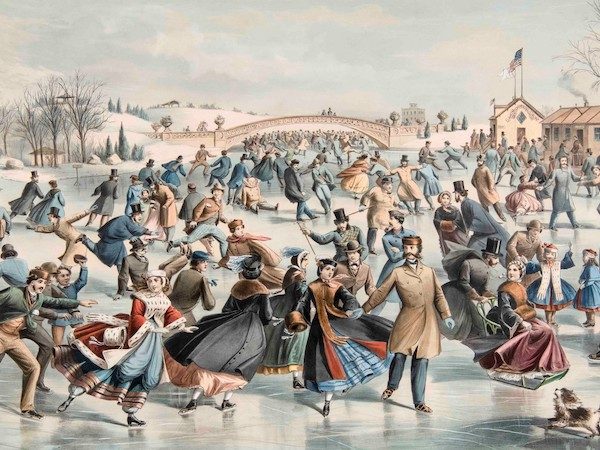 "It'll nearly be like a picture print from Currier & Ives… these wonderful things are the things we'll remember all through our lives." – Classic holiday song, "Sleigh Ride"
Currier & Ives—two names that instantly evoke romantic images of nineteenth-century American Life. A winter sleigh barreling through the snow. A horse-drawn carriage rounding a tree-lined road. Well-dressed socialites strolling through Central Park. The Impact of this publishing powerhouse on visual culture in the US is immeasurable. In fact, both Nathanial Currier and James Merritt Ives found their final resting place somewhere as idyllic as any of their massively popular lithographs—Green-Wood!
Green-Wood invites you to a virtual presentation on the lithographs of Currier & Ives, exploring the insight and influence they had on nineteenth-century American life. Green-Wood Historian, Jeff Richman will be joined by Amy Kurtz Lansing, curator at the Florence Griswold Museum in Old Lyme, Connecticut, for a virtual tour of the current exhibition Revisiting America: The Prints of Currier & Ives.
$9 / $4 for members. A Zoom link will be in your confirmation email upon registration.
Sharing a selection from the 65 prints on view at the museum, Lansing will give you a glimpse into "the Grand Central Depot for Cheap and Popular Prints" from the cozy comfort of your own home. From its founding in 1857 through its closure in 1907, Currier & Ives produced thousands of original lithographs that hung in even more businesses and homes across the US. And they employed some of their time's most talented artists: Louis Maurer, Frances Palmer, Charles Parsons, Napoleon Sarony, and Arthur Fitzwilliam Tait (a number of whom also now reside at Green-Wood!)
Revisiting America: The Prints of Currier & Ives is on display at the Florence Griswold Museum through January 23, 2022. Organized by the Joslyn Art Museum in Omaha, Nebraska, the exhibition draws from the museum's extensive collection of nearly six hundred Currier & Ives prints. Click here to explore the exhibition.
This conversation is part of our series of virtual programs about the history of Green-Wood and its permanent residents, Zooming in on History.
Not a Member?
Click here for all of our membership levels and information.
Already a Member?
Click the gray tickets button to activate the Eventbrite pop-up, then click Enter promo code. Type in your ID number to access your discounted tickets.
Questions?
Don't know your Member ID number? Not sure which ticket or membership type to order? Call 718-210-3080 or email contactus@green-wood.com with any questions.