Mother
AN Installation by Eiko Otake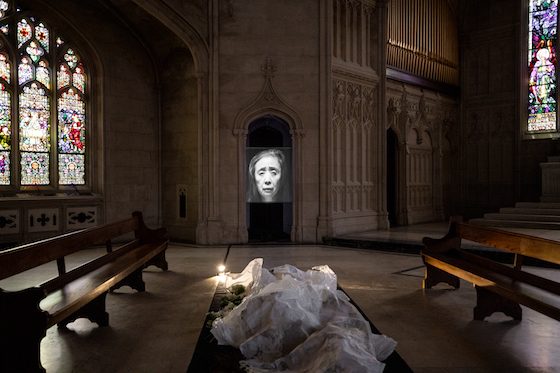 February 25th–May 7th
Free and Open to the Public Daily 10am–5pm
Historic Chapel
In her fifty-year career, Eiko Otake has explored themes of loss, which has included practicing her own death, conversing with the dead, and moving among the abandoned remains of irradiated Fukushima. Otake is interested in communing with and surveying the physical and emotional traces of the deceased.
In Mother, through videos and sculpture, Otake talks to and dances with her mother, who died in 2019. It is one daughter and her mother's personal story. The artist, however, hopes viewers have an opportunity to contemplate their own maternal bonds, as well as the diverse yet common connection to a mother that "links us all to the distant past." Green-Wood's Historic Chapel is a poignant setting for Mother, as for over a century it has provided many with a place for such reflection.
Mother is curated by Harry Weil, Green-Wood's Vice President of Education and Public Programs. Iris McCloughan aided in the installation's creation as a dramaturg. Mother includes two videos created in 2019 soon after Otake's mother passed away, as well as photo prints and objects. The video of the artist speaking is excerpted from "Elegies," made in collaboration with John Killacky and Brian Stevenson. The other, "With Mother in Twilight," was filmed by Rebekkah Palov.
Made possible in part by the New York State Council on the Arts and National Endowment for the Arts.
Click here for more information about the artist and installation.
Free and open to the public, no reservations are necessary. Please consider a donation to The Green-Wood Historic Fund so that we can continue to offer free and low-cost programs throughout the year.