8:30 p.m. Moonlight Walking Tour
June 2, 2012, 8:30pm

–

10:15pm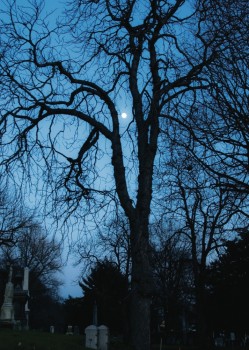 Armed with a flashlight and the full moon's brilliance, fearless trekkers can explore the tombstones and catacombs with Green-Wood historian Jeff Richman.
Those inclined to believe in ghosts should look out for the spirits of cemetery residents such as Boss Tweed, Louis Comfort Tiffany, Leonard Bernstein and Jean-Michel Basquiat. The skeptical can merely enjoy the frisson of nighttime skulking. Flashlight trekkers will be accompanied by live accordion music.
$15 for members of The Green-Wood Historic Fund / $20 for non-members. Reservations recommended.
To purchase tickets, call 718-210-3080 or order online using the Ticket Information box below. Select your date, ticket quantity, and click to Order Now or Enter Promotional Code (Member ID#) and you will be redirected to our Eventbrite ordering page.
If you are using a credit card linked to a non-U.S. address, or if you've typed in a billing address that does not match that of your credit card, you may see an error message when ordering. If so, please call us at 718-210-3080 from Mon-Fri 8am-4pm Eastern Standard Time or email us at info@greenwoodcemetery.org and we will help you complete your order. Thank you.
Not a Member?
Get a free ticket with a membership at left and purchase additional Member Discount Tickets if desired. Click here for all of our membership levels and information.
Already a Member?
Click the "Enter promotional code here (members, use your ID#)" link in the bottom right corner of the ticket box and enter your ID number to apply your ticket discount. Please note that the Senior, Individual and Student membership levels are limited to only one Member Ticket per event (for additional tickets, please purchase at the regular price).
Questions?
Don't know your Member ID number? Not sure which ticket or membership type to order? Call 718-210-3080 or email contactus@green-wood.com with any questions.