'Ghost Tike' A Collective Memorial: A Creative Approach to Grief
March 25, 2021
,
6:00pm
–
7:15pm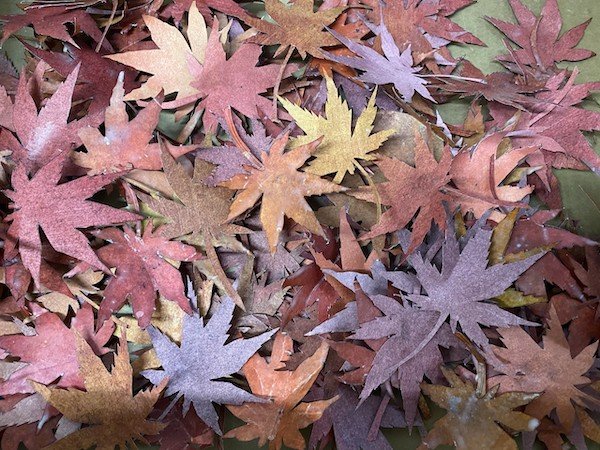 COVID has made it difficult to gather together to remember lost loved ones, limiting the connections we can forge with others through collective grief. Artist Caito Stewart, however, presents another approach, one that can be taken from a distance, in this engaging virtual workshop.
The evening begins with Caito discussing her creation of Ghost Tike, a collective memorial project inspired by the passing of her brother. Composed of thousands of hand cut leaves, each time the work is exhibited, more and more leaves are added. You are able to contribute in this way if you wish as well. The ever-changing nature of the piece is a homage to the persistence and magnitude of grief over time. Caito's work presents the possibility for alternative and ongoing memorials to departed loved ones. Grief is not static, and memorialization can be a meditative, healing journey. After getting a glimpse of her process, attendees are invited to join in the process and craft their own leaves to honor those we have lost.
Not artistically inclined or you just don't consider yourself creative? Don't worry! This workshop is about the process, not the final product. You can use simple supplies found around your house. Instructions and suggestions for the craft will be emailed to you.
Caito Stewart is a visual artist based in the NYC area. She draws on her personal experience and research to create mixed media sculptures, installations, and other opportunities which facilitate collaboration, connection, and dialogue around grief and loss. You can learn more about her work and process on her website.
Please consider a donation to Green-Wood. When reserving your ticket, we hope you will make a donation so that we can continue to provide free and low-cost programs that present engaging and thought provoking programs in death education. A Zoom link will be in your confirmation email upon registration.