Día de los Muertos
November 1, 2021
,
3:30pm
–
6:00pm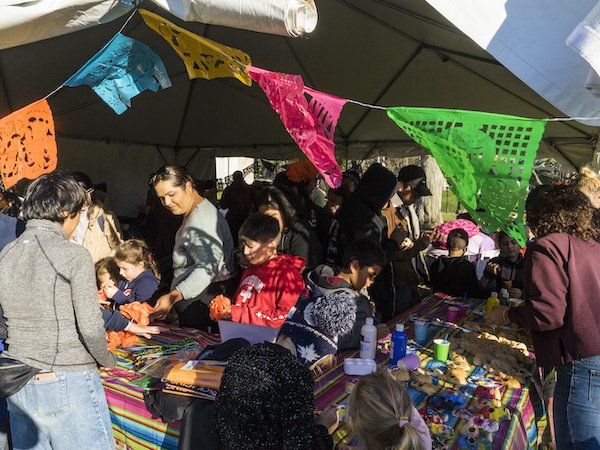 Discover the rich history and traditions associated with the Mexican holiday Día de los Muertos (Day of the Dead) through crafts, activities, and food for families with kids of all ages. Celebrated throughout Mexico from October 31st to November 2nd, this holiday is a time for family and friends to commemorate departed loved ones through prayer, altars, music, and dance.
¡Y Hablamos Español!
Free. Reservation is recommended so that we may gauge attendance. Walk-ins are welcomed. All minors must be accompanied by an adult.
In the event of severe weather, this event will take place on Tuesday, November 2nd.
Please consider a donation to Green-Wood when reserving your ticket. Your donation will help ensure that we can continue to provide engaging and thought provoking programs at little or no cost to you.
This event takes place near the Modern Chapel located just a short distance inside the Main Entrance at Fifth Avenue and 25th Street. Crafts, activities, and food are offered a first come, first served basis.
Mandatory Safety Protocols
– Attendees are strongly encouraged to wear a face covering at all times and maintain at least a 6-foot distance from those not in their group.
– Follow ALL instructions and guidance from Cemetery staff and ambassadors.
– Travel Safely: Green-Wood recommends following all safety precautions while traveling to and from the Cemetery, whether by foot, mass transit, or driving. If taking mass transit, please check the MTA's guidelines.
Feeling Sick? Stay home if you are feeling sick or running a temperature. Please use good judgement if you have recently been exposed to someone with COVID-19. For more information about COVID-19, please check the CDC website.
Green-Wood reserves the right to deny entry to any visitor who refuses to comply with the safety guidelines.
If you observe a situation or behavior that does not reflect these protocols, please advise an ambassador or other staff member immediately. With everyone's cooperation this will be a memorable and safe unique experience.