12 p.m. & 4 p.m. Dancing Through the Light: An Autumn Celebration
October 22, 2011

–

October 23, 2011
Saturday, October 22 and Sunday, October 23, 2011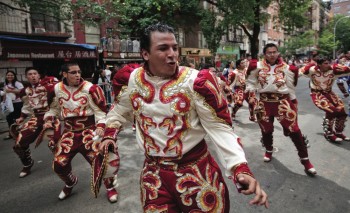 Performed among the trees, lakes and carriage paths of Green-Wood, and framed by the radiant light of the autumn sky, this celebration of world dance illuminates the many cultures and traditions reflected in those who've made Green-Wood their final resting place. Visitors will stroll through Green-Wood to experience a myriad of dance vignettes set against the backdrop of Green-Wood's natural beauty and 173 years of history.
Dancing Through the Light is a collaboration with Dance Parade, a NYC-based nonprofit organization whose mission is to promote dance as an expressive and unifying art form.
Ideal for all ages. Special pricing for families. Site-specific dance performances:
Saturday, October 22, 12:00 p.m. & 4:00 p.m.
Sunday, October 23, 12:00 p.m. & 4:00 p.m.
Please arrive 30 minutes before each performance. Tickets (advance & at the door): $12 for members of The Green-Wood Historic Fund / $15 for non-members. Family Package: $30 for two adults and up to three children under 16.
To purchase tickets, call 718-210-3080 or order online using the Ticket Information box below.
If you are using a credit card linked to a non-U.S. address, or if you've typed in a billing address that does not match that of your credit card, you may see an error message when ordering. If so, please call us at 718-210-3080 from Mon-Fri 8am-4pm Eastern Standard Time or email us at info@greenwoodcemetery.org and we will help you complete your order. Thank you.
Not a Member?
Get a free ticket with a membership at left and purchase additional Member Discount Tickets if desired. Click here for all of our membership levels and information.
Already a Member?
Click the "Enter Discount Code" link at left and enter your ID number to apply your ticket discount. You will only be able to purchase the number of discounted tickets included in your membership level. If you want additional tickets, please purchase at the regular price.
Questions?
Don't know your Member ID number? Not sure which ticket or membership type to order? Call 718-210-3080 or email contactus@green-wood.com with any questions.