Building the Brooklyn Bridge: In 3D!
With Author/Historian Jeff Richman
December 15, 2021
,
6:00pm
–
7:00pm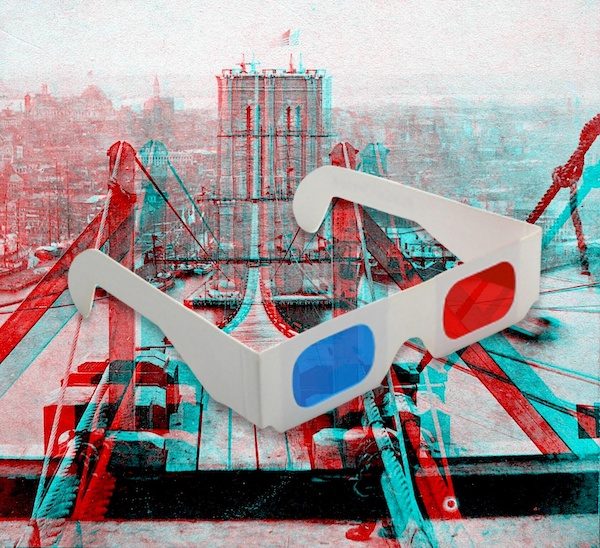 It's a New York City icon like you've never seen it before! Jeff Richman, Green-Wood's historian  and author of the newly released book Building the Brooklyn Bridge 1869-1883: An Illustrated History with Images in 3D, will take you on a virtual journey through how the Brooklyn Bridge came to be. 
Built during an age of technological innovation, the awe-inspiring structure connected for—the first time—the then independent cities of Brooklyn and New York. It was not only a modern engineering feat of extraordinary imagination, fortitude, and skill, but a towering beacon of human triumph. Richman will share superb nineteenth-century images from his book, many never before published, to illustrate how a small group of dedicated engineers and thousands of workers toiled for more than a decade to construct what was then the largest suspension bridge ever built. And grab those 3D glasses (we'll mail them to you!) to see the images come to life before you. You won't want to miss this deep dive into what was once proclaimed the "eighth wonder of the world."
$9 / $4 for members. A Zoom link will be in your confirmation email upon registration.
Jeffrey I. Richman has been Green-Wood's historian for over two decades, but his fascination with New York City history has been lifelong. An avid collector, many images in this presentation come from his own collection and that which he helped Green-Wood to amass. One of his fondest memories is of attending the one-hundredth anniversary of the bridge's opening in 1983—just one milestone in his love affair with the Brooklyn Bridge.
This conversation is part of our series of virtual programs about the history of Green-Wood and its permanent residents, Zooming in on History.
PLEASE NOTE: Everyone who signs up for this program by the end of day on Wednesday, December 1st will be mailed a pair of 3D glasses. Tickets purchased after this date will not be mailed a pair of glasses. You will need these glasses to properly experience the program. When purchasing your ticket, please make sure that the home address you enter on Eventbrite is your mailing address.
Not a Member?
Click here for all of our membership levels and information.
Already a Member?
Click the gray tickets button to activate the Eventbrite pop-up, then click Enter promo code. Type in your ID number to access your discounted tickets.
Questions?
Don't know your Member ID number? Not sure which ticket or membership type to order? Call 718-210-3080 or email contactus@green-wood.com with any questions.