Building the Brooklyn Bridge, 1869-1883: A Book Talk and 3D Experience
September 25, 2021
,
4:00pm
–
5:30pm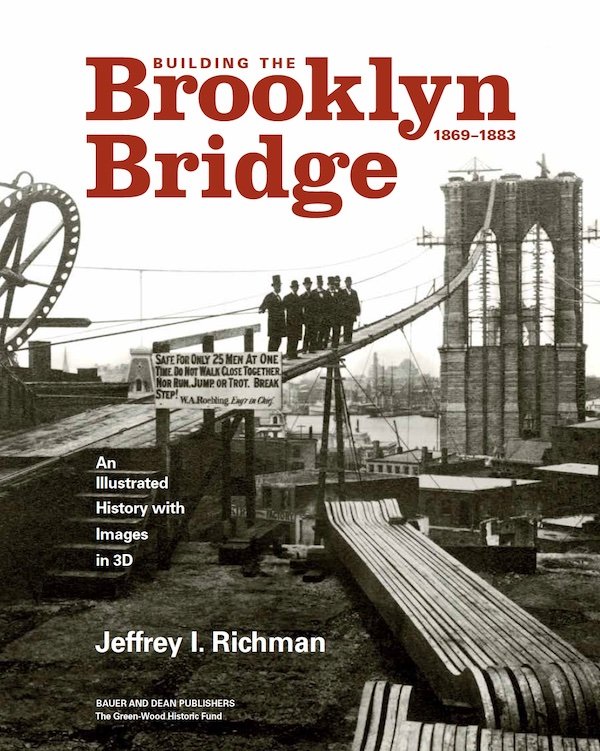 Jeff Richman, Green-Wood's historian, is a great fan of everything Brooklyn, including the Brooklyn Bridge. His latest book, Building the Brooklyn Bridge, 1869-1883: An Illustrated History with Images in 3D, will be hot off the presses for us. (Its publication date is the day before this event!) Join Jeff for a slideshow, talk, and book signing, about how this book—and the Brooklyn Bridge—came into being and what makes them each so special. It's an opportunity to better understand the origins of a New York City icon and to see it, in 3D, as it was being built. 3D glasses will be provided.
$15 / $10 for members. There are no paper or e-tickets. Attendees will be checked in by name.
Location: Check-in takes place at the Modern Chapel by the Main Entrance at Fifth Avenue and 25th Street.
Not a Member?
Click here for all of our membership levels and information.
Already a Member?
Click the gray tickets button to activate the Eventbrite pop-up, then click Enter promo code. Type in your ID number and apply your discount.
Questions?
Don't know your Member ID number? Not sure which ticket or membership type to order? Call 718-210-3080 or email contactus@green-wood.com with any questions.
Mandatory Safety Protocols
– Attendees MUST provide proof of vaccination. Without proof of vaccination, you will not be admitted.
– Attendees MUST wear a face covering at all times inside the Modern Chapel.
– Follow ALL instructions and guidance from Cemetery staff and ambassadors.
– Travel Safely: Green-Wood recommends following all safety precautions while traveling to and from the Cemetery, whether by foot, mass transit, or driving. If taking mass transit, please check the MTA's guidelines.
– Feeling Sick? Stay home if you are feeling sick or running a temperature. Please use good judgement if you have recently been exposed to someone with COVID-19. For more information about COVID-19, please check the CDC website.
Green-Wood reserves the right to deny entry to any visitor who refuses to comply with the safety guidelines.
If you observe a situation or behavior that does not reflect these protocols, please advise an ambassador or other staff member immediately. With everyone's cooperation this will be a memorable and safe unique experience.